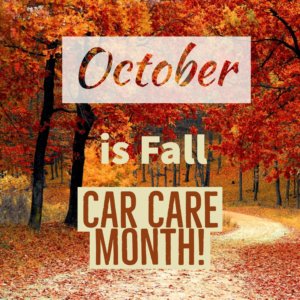 October, also known as Fall Car Care Month, is the perfect time to start doing something better for your vehicle – routine car maintenance. Most people get in the habit of visiting their trusted auto repair shop only when they need a car repair or if something goes wrong that they cannot figure out nor fix themselves. The truth, is that caring for your vehicle throughout its life, can making owning and affording your car much more smooth and manageable.
There are some clear and crucial things that you can have checked this October. Carcare.org recommends having the following preventative maintenance checks done before winter arrives … and let's face it … it will be here before we know it, just like fall was. Come on in and see us, and let us perform the following maintenance for you:
Check all fluids such as engine oil, power steering, brake and transmission as well as windshield washer solvent and antifreeze/coolant.
Check your hoses and belts to make sure they are not cracked, brittle, frayed, loose or showing signs of excessive wear.
Check your battery and replace it, if needed.
Check the brake system for signs of wear, including the brake linings, rotors and drums inspected at each oil change.
Check the exhaust system for leaks, damage and broken supports or hangers if there is an unusual noise.
Check your engine for its best power/performance, fuel economy and low emissions.
Check the heating, ventilating and air conditioning HVAC system, to ensure proper heating and cooling performance.
Inspect the steering and suspension system, including shock absorbers, struts and chassis parts such as ball joints, tie rod ends and other related components.
Check your tires for signs of wear, pressure and alignment.
Check your wipers and lights, as they are important safety features necessary for the winter and all year long.
Being aware of your car's needs and what preventative maintenance services we can offer you is an important part of vehicle ownership. We like to maintain your vehicle so that it performs better for you and you can feel better knowing that your vehicle is safer on the road. Ready to make your Car Care Month appointment? We're ready to have you!