Text NEW10 to 21000 for 10% off Your First Visit!
What's Happening at Good Works Auto Repair!
July 2020
Air Induction Service
Car not running up to it's peak performance? Our air induction service can help restore your vehicle to perform like new! Our service: 
Boosts fuel efficiency as less fuel is wasted and soaked up by crusted containment s.
Reduces harmful pollutants that are emitted from your car.
Prolongs the overall life of your car's engine – since it allows your engine to perform with less stress.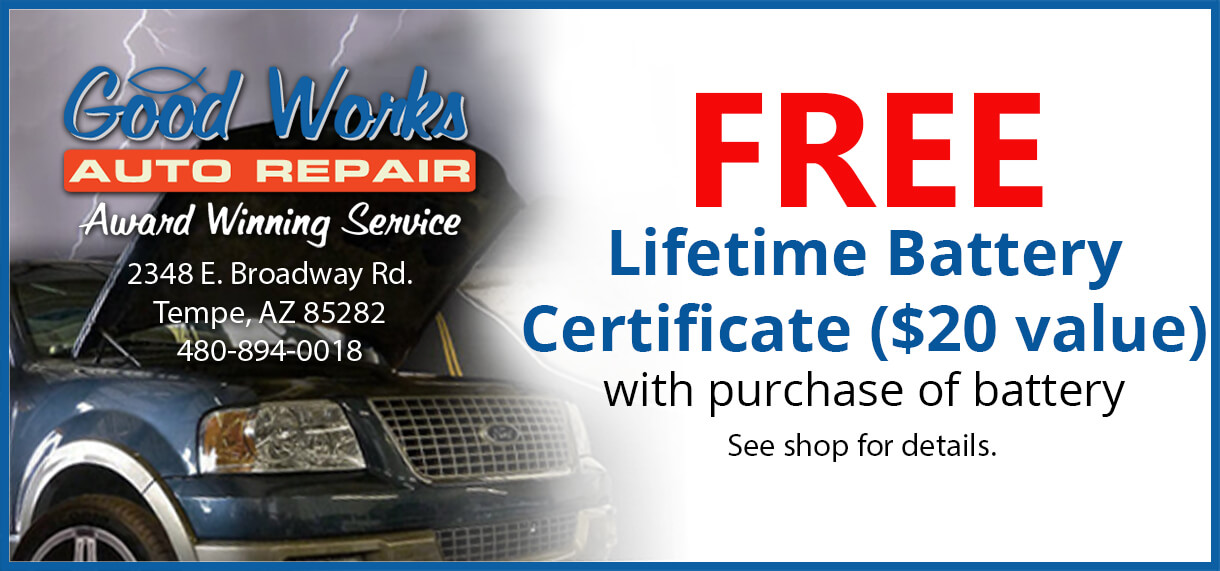 Free Lifetime Battery Warranty
Monsoon season is here! And that means it's dead battery season in Arizona. The last thing you want is a dead battery when you're planning that summer road trip.
For a limited time, when you purchase a new battery at Good Works, you will receive a lifetime warranty on your new battery.
Don't wait until it's too late! Come in today!

Don't Let the Heat Get the Best of Your Car Battery!
Summer temps have heated up and that means more damage to your car battery than normal. It's true – cold weather can kill car batteries, but the real damage can occur during extreme heat as we are currently experiencing now. Living in Arizona, you're probably used to dealing with the effect of high temps on your vehicle, but do you know why the heat impacts your battery? Knowing what happens and what to do could extend the life of your battery, saving you time, money and … maybe finding yourself stuck on the side of the road in the heat.
What happens to your battery in the heat?
Basically, the main things you need to know are, excessive heat can actually accelerate the battery's chemical operation, causing battery fluid to evaporate. Second, loss of battery fluid can permanently damage the internal structure of the battery, as well as irreversible corrosion damage.
What does a failing battery look like?
 If a trusted repair shop like Good Works Auto Repair has not checked the power or condition of your current car battery this summer, you may notice that your battery is failing by watching for:
Your engine cranks slower than it normally does when you start your car
You have a check engine light or battery light on
You look at your battery and see that the fluid level is low
The battery case itself looks swollen or bigger than normal
The battery posts, or where the cables connect, are all corroded
You notice that your headlights or even your interior lights seem dim
Your battery is more than three years old and could be in danger of failing
What can you do to extend the life of your vehicle?
Park your car in the shade or in a garage when possible
Avoid charging your electronics through your car
Don't use electronic devices when the car is off
Keep the battery and battery cables clean
Replace the car battery with one that is equal or better than the one originally specified
Have your auto mechanic or auto repair shop check the power and condition of your battery before it is too late. Preventative maintenance is a good start to avoiding auto repair issues down the road!

Welcome to our new series featuring our very own Glen Hayward, Owner of Good Works Auto Repair. We are here to show you why to build relationships with your mechanic and auto repair shops. And how we go above and beyond giving you, the customer, award winning service. Enjoy!

Meet the team that delivers Award Winning Service!

Open Saturdays
Make your appointment today!