What's Happening at Good Works Auto Repair
UPDATE ON COVID-19 WE Are Open – And Here for YOU
As you know, this Coronavirus pandemic is affecting the world and our community at a very fast rate. The world we live in today is unfortunately the perfect platform for something like this to spread quickly with our advanced forms of public transportation. These transportation methods are now unsafe and many people that rely on these systems are separating themselves for the greater good during their travels.
Because of this, we anticipate more miles travelled by vehicles over the next few months. We are taking this matter very serious at Good Works Auto Repair and safety is our #1 goal, for ourselves and our community. We feel that it is our obligation to intervene and do our part.
To ensure the safety of our customers and our own employees. We will be sanitizing every vehicle before and after service
Precautions we are taking while servicing your vehicle

All high contact areas will be disinfected twice.
Inner/Outer Door Handles
Radio Buttons/Knobs
Turn Levers
Shift Knob
Center Console
Additionally, we will still have hand sanitizer at our entrances and triple the daily scheduled sanitation cleaning of our offices and customer areas.
Should any customer not wish to visit our establishment in person, we will extend our pickup and delivery service to all. You can leave it to us. We will pick your vehicle up and return all while you stay in the confines of your home.
The world needs the awareness and precautions to spread faster than Coronavirus if we plan to beat this, as always we will ensure safety is paramount throughout this time of need.
We thank you all for your service and wish you all health and wellness.
Glen and RaeAnn Hayward,
Owners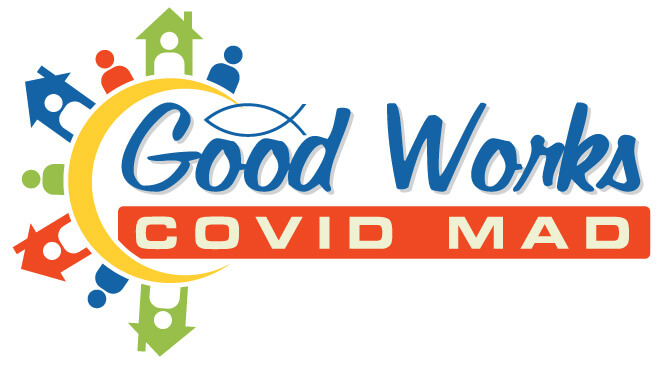 Introducing the COVID MAD Care Program
Good Works Auto Repair's COVID MAD Program stands for:
Community
Of
Valiant
Individuals
Determined to
Make
A
Difference
Auto repair shops are classified as an "Essential Business" so they will remain OPEN during this COVID-19 crisis to serve their communities, to keep supplies moving, to ensure that essential workers have cars that are operational, and to maintain your car should you need to get to the doctor or the store.
So, Good Works Auto Repair remains OPEN to serve others throughout this crisis. That's why Good Works Auto Repair is starting the COVID MAD program.
During these challenging times, when we are being encouraged to practice social distancing and limit personal interactions, we want to promote the sense of togetherness in our community. That's why we want to encourage EACH of us to work together in any way we can to support ALL of us. And, we challenge our fellow entrepreneurs who remain open to do the same.
Introducing Our

COVID MAD

Program Week 2 Feature – Boulders on Broadway
Good Times with Great Food!
If you've never been to this bar and grill on West Broadway, right here in Tempe, you don't know what you're missing! At the center of this local gem are great food, craft beer, bike riding, adventure, and awesome people. From online ordering, to catering and local events, these guys do it all.
Of course, the Covid-19 crisis has changed the way restaurants, grills, and cafes currently do business. Instead of being able to eat in and enjoy the atmosphere, you will need to order in advance for pickup or delivery. But, when you do, you get to bring a piece of their atmosphere home with you AND support a local small business!
So, what are you craving today … Pizza? Salad? Burgers? Sandwiches? Boulders on Broadways offers all of this and MORE. Check out their full menu and get your order started!
Lastly, here are a few other things you can do:
Watch

 

our Facebook page

 

for daily winner announcements.
If you're one of our lucky winners, give a shout out to Boulders on Broadway on Facebook or your favorite social media channel.
Even if you're not a gift card winner, check out Boulders anyway!
Visit

 

Boulders on Broadway on Facebook

 

for current deals and up to date information on ordering.
Together, we CAN make a difference in our community … one person and one business at a time!

Open Saturdays
Make your appointment today!