Text NEW10 to 21000 for 10% off Your First Visit!
What's Happening
at Good Works Auto Repair!
January 2021

Happy New Year!
2020 was a difficult year for most people. From all of us at Good Works Auto Repair, we want to thank you with our sincerest gratitude for your continued support during some tough times. Here's to 2021!
Ring in the New Year with our Royal Flush
Get a great discount according to how many maintenance items are performed -up to a Royal Flush of FIVE!
$15 off any ONE maintenance item
$30 off any TWO maintenance items
$45 off any THREE maintenance items
$60 off any FOUR maintenance items
$100 off any FIVE maintenance items

If you're a northern snowbird who migrates to Arizona for the winter, you probably appreciate the state's overall lack of snowfall and cold weather. Depending on where you settle in for the winter, however, you could still see some of that white stuff and some colder temperatures. Consequently, it's good to know how the cooler weather can affect your vehicle's performance, including your car battery.
Car batteries are affected by temperature extremes
Those of us who live in Arizona year-round know that the summer heat can have disastrous effects on car batteries – it can evaporate the battery's internal fluids, speed up corrosion, and cause permanent, irreversible battery damage.
Similarly, cold weather can also have negative effects. As temperatures plummet, engine oil thickens, making it more difficult for a battery to do its job. The internal chemical reactions that take place within a battery also get slowed by colder temperatures, making it sluggish to start or possibly preventing it from starting altogether.
Features to consider in a cold-weather battery
The best battery for your vehicle is the one that fits it well and also fits where you live. If you live primarily in a hot climate, you should choose a battery well-fitted for higher temperatures. Conversely, if you and your vehicle spend a significant amount of time in colder temperatures, a cold-weather battery will best suit your needs. Here are some features to consider:
Durability –

 

Choose a battery that will withstand the temperature extremes it will be exposed to, as well as one that will handle everyday use.
Reserve capacity –

 

Once a battery starts a vehicle, the alternator takes over and keeps electrical components running. If the alternator fails, however, the battery's reserve capacity can keep things running longer. The higher the reserve capacity, the better the battery.
Cold-cranking amps (CCA) –

 

This refers to how much current a battery can send to the starter at 0 degrees Fahrenheit for 30 seconds, all while holding a voltage of 7.2 volts or greater. The higher the cold-cranking amps, the better the battery will perform in cold weather.
Car battery maintenance tips
Just like any other vehicle part, a car battery requires maintenance in order to have maximum performance over an extended period of time. How can you keep it running smoothly?
Keep it clean

 

– Dirt and debris can cause battery terminals to become corroded over time and lead to faulty performance. Have the battery checked and cleaned regularly by an auto repair professional to keep it in the best working order.
Park in the garage –

 

Parking inside helps keep the battery from being exposed to temperature extremes and can also help keep it clean.
Replace when necessary –

 

Car batteries have an average lifespan of 3 to 7 years, but you may not want to push it to the outer limits. Replacing it around the 4-5 year mark may provide some extra peace of mind and keep you from getting stranded … in the heat, or in the cold.
Keep it active –

 

Batteries lose charge when they are left inactive for long periods of time. Try to run your vehicle at least once every 3 days.
At Good Works Auto Repair, we offer comprehensive battery service to preserve the performance of your car battery and keep it running smoothly. When it does come time for a new one, we can handle that, too. Schedule an appointment today and enjoy the peace of mind that comes with a powerful, quality car battery that's functioning at its best!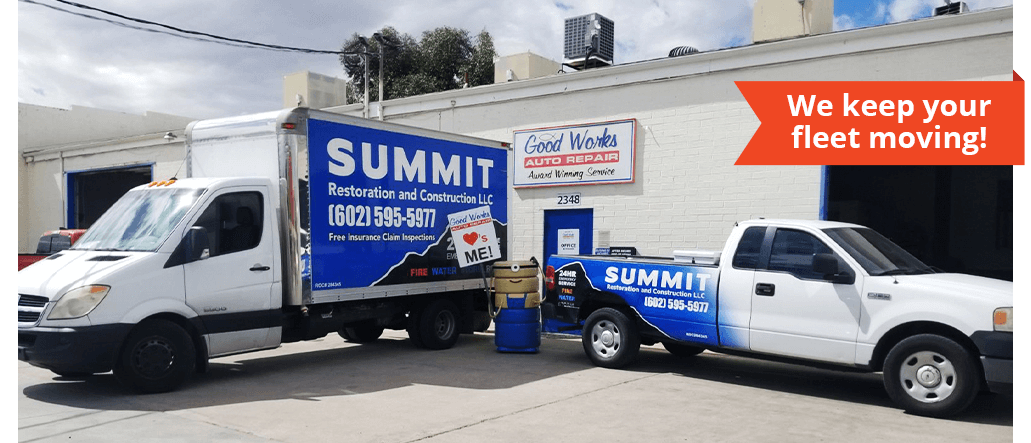 We Offer Fleet Services in Tempe & Mesa
Good Works Auto Repair is happy to offer fleet repair and fleet services to the Greater Phoenix Area, including Tempe and Mesa. If you are looking for an Auto Reapir shop that puts customer satisfaction first, Good Works is the repair shop for your fleet services and repair. Good Works Auto Repair promises to make your fleet a priority. Call our Tempe/West Mesa office today and receive priority scheduling for your next fleet service or repair.
We know how important your fleet is to your bottom line. We know that even one vehicle down costs you time, money, and customer satisfaction. Good Works Auto Repair fleet service promises that your fleet is our priority. You automatically receive priority scheduling, convenience, and a partner in keeping your fleet on the road!
Commercial Vans
Light Commercial Trucks
Delivery Vehicles
Passenger Cars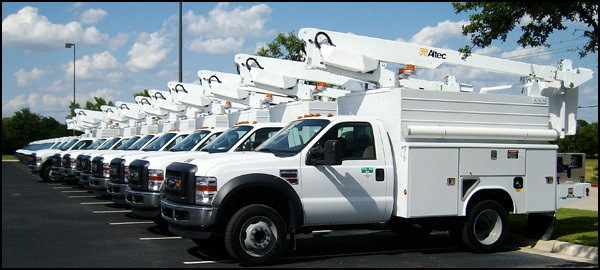 Open Saturdays
Make your appointment today!