Text NEW10 to 21000 for 10% off Your First Visit!
What's Happening
at Good Works Auto Repair!
November 2020
Want to Get Away?
2020 has been an interesting year, there is no doubt about that. With the holiday's here, there is no better time than to get away!
We are offering 20% off any service (up to $200) when you present this coupon at your next service. Get your vehicle tuned up before you hit the road!
Coupon must be presented at time of appontment. Offer expires 11/30/2020

Car Safety Tips If You Hit the Road this Thanksgiving
Thanksgiving may look a little different this year because of COVID-19. So, as you get ready to head over the river and through the woods to grandmother's house – either to drop off food, or have an outdoor meal – make sure your car is in tip-top shape to weather the roads.
Preventative maintenance is the key to avoiding costly auto repairs and getting stuck in the middle of nowhere this holiday season. Here are a few easy and inexpensive ways to make sure your car is ready to hit the highway with no delays.
• Examine your tires. According to the Rubber Manufacturers Association, 85% of drivers today 
don't know how to properly inflate their tires. A blown tire, at a high rate of speed, can lead to a serious if not deadly accident. Before your trip, look for foreign objects, uneven wear patterns in the tread, bald spots, cracks or exposed metal. Also, check your tire pressure. Properly inflated tires are key to maximizing fuel efficiency.
• Have a professional check your fluid levels including oil, power steering, brake, transmission and antifreeze.
• Look for a qualified technician who can inspect all hoses and belts for cracks, leaks and loose connections. Excessive wear can damage your electrical system, power system, cooling system and other important vehicle functions. Hoses should be firm, not soft or brittle, and in Arizona they need to be replaced on average every four years or 60,000 miles. Belts need to be replaced every 50,000 miles as the composite belts don't show signs of wear until failure occurs.
• Clean your battery and have it checked by a pro to assure it has enough power to get you to and from your destination. The Arizona heat can significantly cut down on the life of a vehicle battery.
• Check lighting. Test your turn signals, look for burned out bulbs, clean headlights and make sure brake lights are working.
A qualified technician will be happy to inspect your vehicle before a road trip to assure you and your family are safe. Search out a member of the Neighborhood Auto Repair Professionals (NARPRO) for a seasonal vehicle check-up because unlike the average car owner, pros know what they are looking for when it comes to checking for dangerous wear-and-tear on a vehicle.
Before you head out, make sure you also have a well-stocked emergency roadside kit in case of breakdown. Include a first-aid kit, can of foam tire sealant, jumper cables, a fire extinguisher, reflective warning triangles, a flashlight and batteries, duct tape and bottles of water.
For more information about NARPRO or to find an approved service center near you, or visit them online. NARPRO helps consumers find reliable and trustworthy auto repair and body shops across the Valley. Shops listed on this site have passed a stringent 26-point test of quality, integrity and customer service.
Written by: Jim Garnand, owner of Hi-Tech Car Care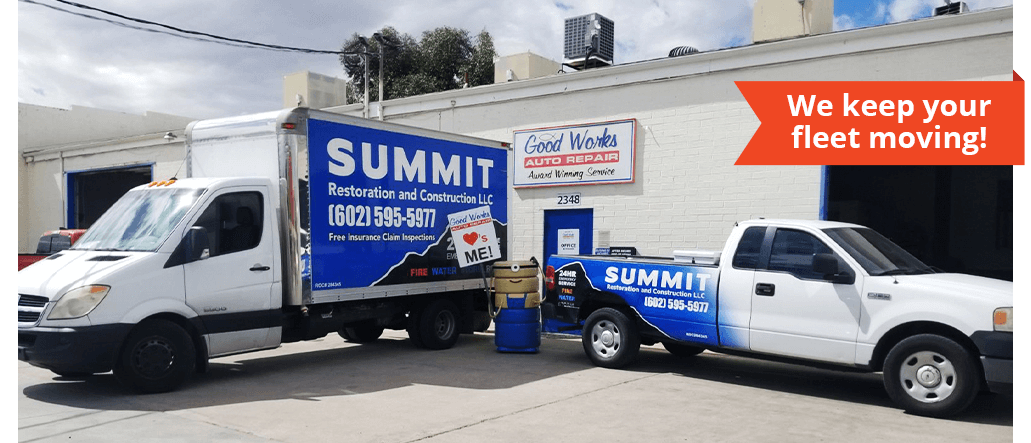 We Offer Fleet Services in Tempe & Mesa
Good Works Auto Repair is happy to offer fleet repair and fleet services to the Greater Phoenix Area, including Tempe and Mesa. If you are looking for an Auto Reapir shop that puts customer satisfaction first, Good Works is the repair shop for your fleet services and repair. Good Works Auto Repair promises to make your fleet a priority. Call our Tempe/West Mesa office today and receive priority scheduling for your next fleet service or repair.
We know how important your fleet is to your bottom line. We know that even one vehicle down costs you time, money, and customer satisfaction. Good Works Auto Repair fleet service promises that your fleet is our priority. You automatically receive priority scheduling, convenience, and a partner in keeping your fleet on the road!
Commercial Vans
Light Commercial Trucks
Delivery Vehicles
Passenger Cars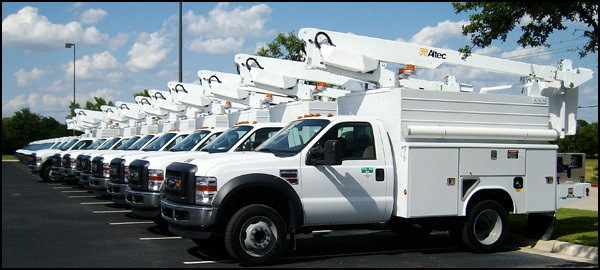 Open Saturdays
Make your appointment today!