Text NEW10 to 21000 for 10% off Your First Visit!
Whats Happening at Good Works Auto Repair!
October 2020
Take 20% OFF!
We are offering 20% off any service (up to $100) when you present this coupon at your next service. Coupon must be presented at time of appontment. Offer expires 10/31/2020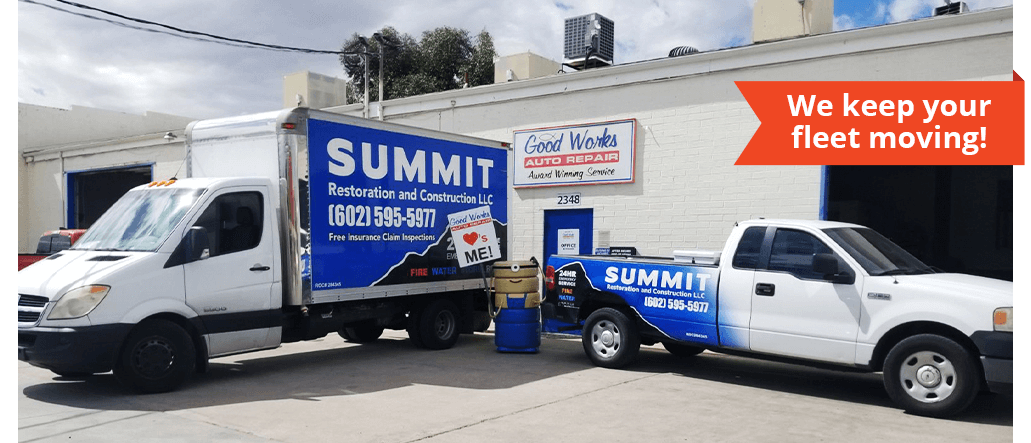 We Offer Fleet Services in Tempe & Mesa
Good Works Auto Repair is happy to offer fleet repair and fleet services to the Greater Phoenix Area, including Tempe and Mesa. If you are looking for an Auto Reapir shop that puts customer satisfaction first, Good Works is the repair shop for your fleet services and repair. Good Works Auto Repair promises to make your fleet a priority. Call our Tempe/West Mesa office today and receive priority scheduling for your next fleet service or repair.
We know how important your fleet is to your bottom line. We know that even one vehicle down costs you time, money, and customer satisfaction. Good Works Auto Repair fleet service promises that your fleet is our priority. You automatically receive priority scheduling, convenience, and a partner in keeping your fleet on the road!
Commercial Vans
Light Commercial Trucks
Delivery Vehicles
Passenger Cars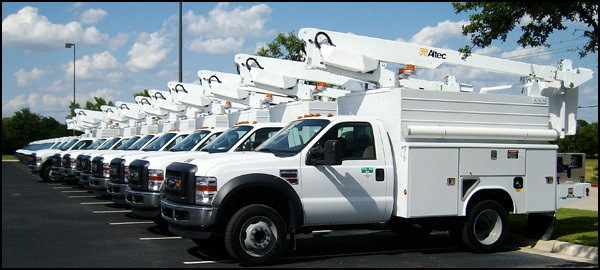 Did you know that October is Fall Car Care Month? With the changing of leaves and cooling weather, it's time to think about some preventative maintenance on your vehicle before winter comes. 
Fall Car Care To-Do List
The summer heat, especially here in Arizona, may have taken its toll on your vehicle. Before the colder winter temperatures arrive, it's helpful to take stock of your car's health and see what might need to be addressed. Here are six easy tasks that you (or your favorite mechanic) can do to make sure your vehicle is ready for the next season.
#1: Check your vehicle's tires.
Obviously, tires are a must for any vehicle. Checking their tread, looking for wear and tear, and getting them rotated and balanced are all necessary tire maintenance tasks.
An easy way to ensure your tires are performing well is to check their pressure. You can look up the recommended PSI in your owner's manual or on the driver's side door jamb. As the temperatures cool, so will tire pressure so it's important to check the pressure and make adjustments as needed.
#2: Schedule battery service.
Temperature extremes can affect your car battery's life so a quick inspection will help you see if the summer heat has caused any damage. Check your vehicle's battery connections to ensure they are clean, tight, and corrosion-free. Or, simply schedule battery service at our shop and let us inspect for leaks, install anti-corrosion terminal protectors, and more to keep your battery running smoothly.
#3: Inspect your wiper blades, defroster, and heater.
Checking the heating, venting, and cooling (HVAC) system is important for your comfort and safety. This is because you'll need it for defrosting capabilities when the weather turns colder. And, wiper blades are also important because if they are cracked or torn, streaks can appear across the windshield and decrease visibility. 
#4: Check your brakes.
Brakes are very crucial to your vehicle's function and your safety. A thorough brake inspection will include the rotors, brake fluid level, hoses and brake lines, and test driving the vehicle for signs of brake malfunctioning.
#5: Check your exterior lights.
Ensuring that your headlights and taillights are in working order is also crucial because as winter approaches, it begins to get darker sooner. Having working lights is important for your safety so that other drivers are able to see you, and you can see them. 
#6: Schedule an oil change.
Performing routine oil changes at regular intervals is very important at any time of year. Check your owner's manual or ask your trusted mechanic for the oil change interval recommended by your vehicle's manufacturer.
Fall car care made easy
If you'd rather spend October at the pumpkin patch or planning your Halloween costume, no problem! We make fall car care easy. Simply give us a call or schedule an appointment online and our trained professionals will take care of everything.

Open Saturdays
Make your appointment today!