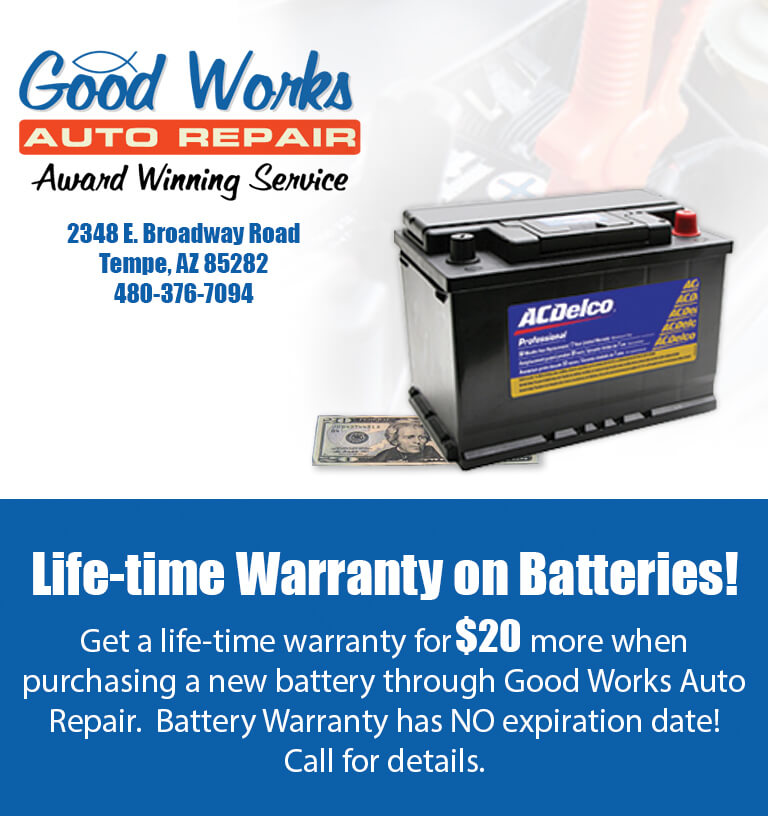 Summer is the season for major car-battery problems. Heat, not cold, shortens battery life, says the Car Care Council.
Excessive heat and overcharging are thus the main reasons for shortened battery life. Heat causes battery fluid to evaporate, thus damaging the internal structure of the battery. A malfunctioning component in the charging system, usually the voltage regulator, allows too high a charging rate. That's slow death for a battery.
Good Works Auto Repair uses only quality AC Delco batteries.
What We Do During Car Battery Service
At Good Works Auto Repair, we visually inspect the following:
We clean your battery using a battery cleaner
We then thoroughly inspect your battery
We apply a leak detector to check for leaks or deterioration
We install anti-corrosion BG Battery Terminal protectors
Battery posts, terminals and case are sealed
In severe cases we may replace the terminal
How Often We Recommend Car Battery Service
We recommend this service every two years.
Shop Hours:
M – F: 7:30 – 5:30
Sat: 8:00 – 4:00
by appointment only
We are closed on Sunday
Location:
2348 E. Broadway Rd
Tempe, AZ 85282
"I appreciated the time that Glen took to explain things to me, explain why things needed to be done and also the time to show me! It means alot when the mechanics can take the time to show you what is happening and also to take the time to show you."
Lisa B.
"We've been coming to your shop for about three years now and you never let us down. We continue to appreciate your high level of customer service and will continue to send our friends your way. Thanks again!"
Larry O.
"I appreciate the great work that you do. I especially appreciate knowing if I am going on an out of town trip, that my car has been examined meticulously. Last year, I was planning an out of town trip to Flagstaff; you discovered that my battery was about to expire. I was able to replace it before leaving. Thanks!"
James C.