Brake Service in Tempe & Mesa
Shop Hours:
Mon:  7:30 – 5:30
Tue:  7:30 – 5:30
Wed:  7:30 – 5:30
Thu:  7:30 – 5:30
Fri:  7:30 – 5:30
Sat:  8:00 – 4:00
Sun:  Closed
Almost anyone – anywhere – can come up with a cheaper price for auto repair services (although we think ours are very competitive). But what we think makes us unique is that we don't just service your car, we provide trustworthy and reliable service that includes:
ASE Master Certified technicians and ASE Certified technicians
The ASE Blue Seal of Excellence
The NAPRO seal of approval
Better Business Bureau Membership
ASA (Automotive Service Network) Membership
Our modern, auto repair shop features new equipment and the latest computer hardware and software to diagnose your vehicle. Not only are we equipped with over-sized lifts to accommodate medium duty trucks, we are also able to service hybrid vehicles. Feel at home in our comfortable, family-friendly waiting area while enjoying free wi-fi, Keurig gourmet coffee, tea and cocoa and clean bathrooms during your visit.
At Good Works Auto Repair Mesa, we really mean it when we say "Everyone and Every Repair Counts!" We know how busy you are, so to help keep your vehicle in top condition, we offer free service reminders when it is time for maintenance. Our excellent team of highly trained, certified and professional technicians works hard to get you back on the road as soon as possible.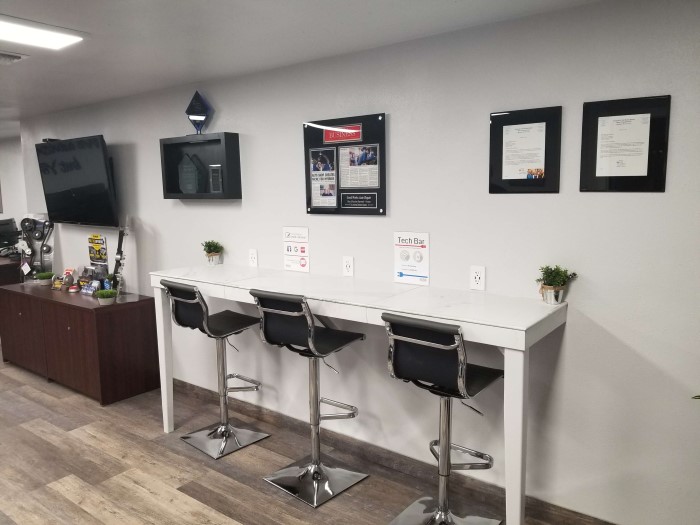 Shop Hours:
M – F: 7:30 – 5:30
Sat: 8:00 – 4:00
by appointment only
We are closed on Sunday
Location:
2348 E. Broadway Rd
Tempe, AZ 85282
"I appreciated the time that Glen took to explain things to me, explain why things needed to be done and also the time to show me! It means alot when the mechanics can take the time to show you what is happening and also to take the time to show you."
Lisa B.
"We've been coming to your shop for about three years now and you never let us down. We continue to appreciate your high level of customer service and will continue to send our friends your way. Thanks again!"
Larry O.
"I appreciate the great work that you do. I especially appreciate knowing if I am going on an out of town trip, that my car has been examined meticulously. Last year, I was planning an out of town trip to Flagstaff; you discovered that my battery was about to expire. I was able to replace it before leaving. Thanks!"
James C.