News Articles & Features
from Good Works Auto Repair

Arizona Gas Prices Nearing $4 A Gallon
How To Maximize Mileage For Holiday Travel
(PHOENIX)– Drivers in Arizona are paying, on average, $1.52a gallon more for regular unleaded than they did one year ago. That's 25 cents shy of the highest reported average record of $4.09 in 2008.
According to AAA, the December 14 statewide average price per gallon is $3.73 compared to $2.21 a year ago. In Phoenix, the average is $3.78.
With consumers are paying more for gas, rental cars, and food, your Neighborhood Auto Repair Professionals (NARPRO) offer these steps to maximize mileage:
1. Slow down: According to the U.S. Department of Energy,each 5 miles per hour you drive over 50 mph is like paying an extra 20 cents per gallon.
2. Avoid sudden starts and stops: If you see a red light, ease up and coast rather than wait to brake. When the light turns green, gently accelerate. The U.S. Department of Energy estimates aggressive driving (speeding, rapid acceleration and braking) can lower your gas mileage by roughly 15 to 30 percent at highway speeds and 10 to 40 percent in stop-and-go traffic.
3. Lighten the load: Hauling cargo on your roof increases wind resistance and lowers fuel economy. You may also want to get the junk out of your trunk.
4. Avoid excessive idling: Turn off your engine when you're parked. Idling can use a quarter to a half-gallon of fuel per hour, depending on your engine size and air conditioner use.
5. Use cruise control: this helps you maintain a steady speed on highways.
6. Check your tires: Properly inflated tires can improve fuel economy up to 3 percent, plus they're safer and last longer. Follow the levels recommended by the automaker.
7. Keep up to date on maintenance. A dirty air filter restricts the flow of air in the engine, which lowers performance.
NARPRO (Neighborhood Auto Repair Professionals)
The Neighborhood Auto Repair Professionals (NARPRO) helps car owners find skilled and honest car repair shops. NARPRO only recommends independent, family-owned, full-service auto repair shops that have passed 26 rigorous tests. Visit www.NARPRO.com to find recommended shops near work or home. NARPRO is the easiest way to find an honest mechanic in the Valley.
Glen Hayward is the owner of Good Works Auto Repair in Tempe and is a board member of the Neighborhood Auto Repair Professionals.
Good Works Auto Repair Digital Inspections
This past week Glen was featured on AZTV 7 talking about what Good Works has to offer and how our digital inspectins, provided with every service, seperate us from the rest.
Good Works Auto Repair Meets Vice President Mike Pence
Vice President Mike Pence met with local community and business leaders in Phoenix on Tuesday, October 3rd, 2017. Our own Glen and RaeAnn Hayward were there and had a nice sit-down with the vice president. He was in town talking about the need for tax reform. In his speech, he stated that President Trump wanted him "to listen to the job creators and to listen to the great leadership in Arizona about the best way to go forward." What a privilege that Good Works Auto Repair was invited to join in the conversation! To read the full article please click here.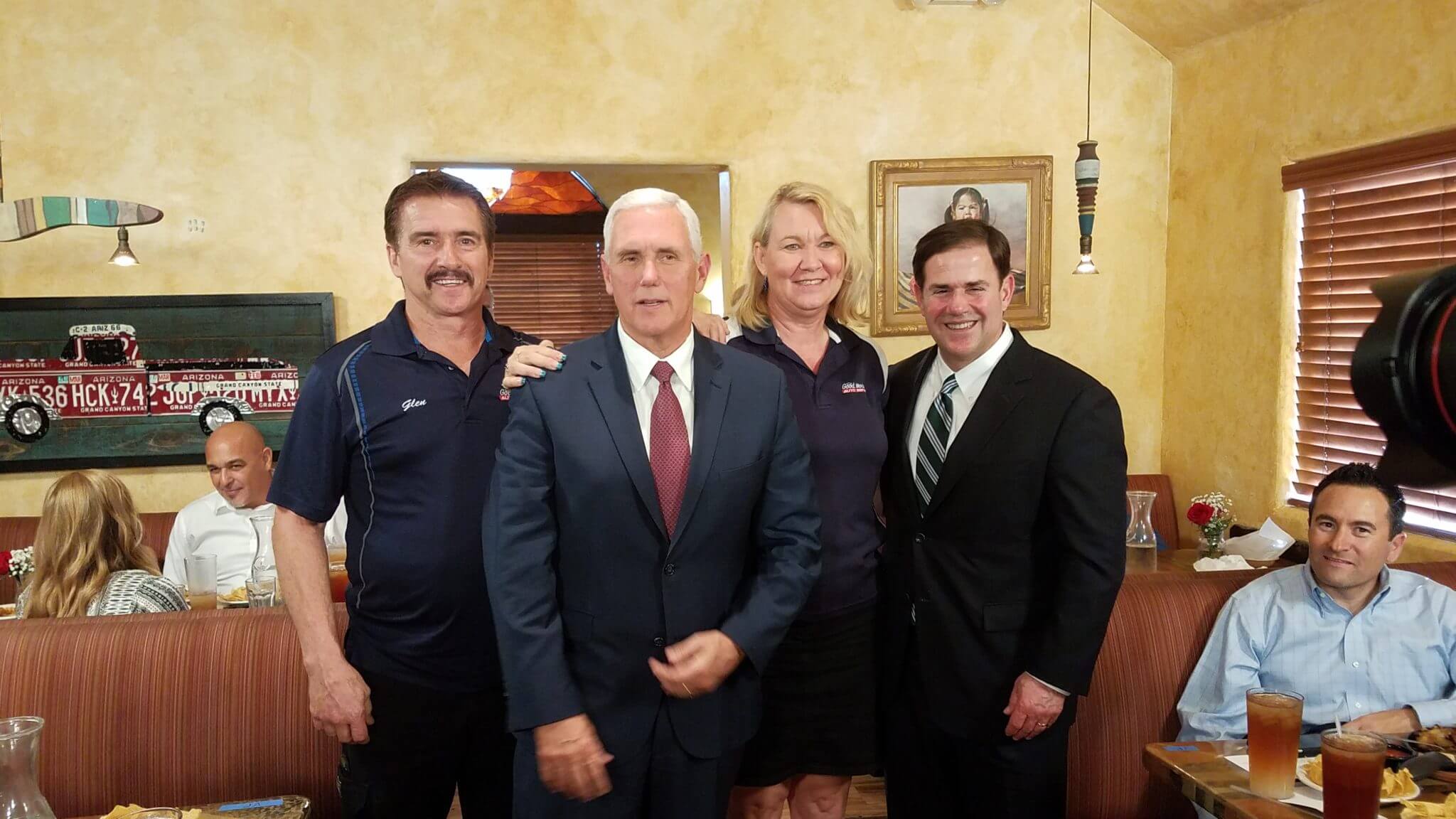 Used Car Dangers – Unrepaired Recalls
Glen shows us how to tell if your used vehicle has an unrepaired recall and what to do about it.
Hidden Water Damage to Your Vehicle
Your vehicle could be damaged from the recent storms – even if you didn't drive!
On KPNX: Helping Teens Buy The Right Used Car
Great advice for selecting a car for your teen from a reputable Auto Shop Owner.
How to Winterize Your Car with NARPRO
Make sure to travel safe this holiday season with help from your neighborhood auto professionals at NARPRO and Good Works Auto Repair. Be sure to check your tire tread, antifreeze levels and charge your cell phone before heading up north during these cold months.
On KTVK: No You Don't HAVE to Replace Your Hybrid Battery!
Spending thousands on new hybrid batteries is a thing of the past. KTVK interviews Glen Hayward of The Hybrid Shop in Tempe – get ready to save money on your hybrid battery.
On KPNX: Driving through monsoon flood waters
Driving through flood waters can be dangerous and very costly. Watch this video to understand what happens when you drive through water that is too deep.
Don't Get Ripped Off!!
Save money at the auto shop winterizing your car!
Hidden Water Damage In Your Vehicle
Your vehicle could be damaged from the recent storms – even if you didn't drive!
Don't Get Stranded This Summer!!
How and when to check your tires and car battery.
Warning Signs for Your Car's AC Unit
How to spot potential cooling problems in the engine or A/C compressor.
Winterize Your Car with NARPRO
The neighborhood auto professionals at NARPRO & Good Works Auto Repair want to help you drive safe this holiday season. It is important to check things like tire tread, antifreeze levels, and charge your sell phone before heading out on the snowy winter roads during these cooler months.
Good Works Auto Repair Partners with The Surprise Squad
Good Works Auto Repair recently teamed up with Channel 3's The Surprise Squad and Helping Hands for Single Moms to surprise Shauna, a hardworking mother of two with a safe and reliable vehicle. Through a very generous donation from Glen's mother, the car was provided by Good Works Auto Repair to Shauna after going through all of the inspections. Congratulations Shauna! Thank you for all of your hard work. The team at Good Works Auto Repair wishes you the best!
Auto Shop Creates Niche for Hybrids
Arizona Business Gazette – July 6, 2017
Good Works offers three year, 36,000-mile warranty to
earn trust of customers while repairing specialty cars.