Brake Service in Tempe & Mesa

Spring for a Gift Card!
Good Works Auto Repair has the perfect way to say "Happy Mother's Day", "Thank You", "Happy Holidays", or even "I care about your safety!" to that driver on your shopping list. Our gift cards can be used on any service and for the gift that keeps on giving, this is a refillable gift card and comes with a personalized login to check the balance and more. Call 480-894-0018 or stop in today to simplify your gift giving!
Fine Print: Sorry, we cannot reissue lost or stolen cards. All residual value left on your card will be rolled over to your next visit, we cannot give cash back.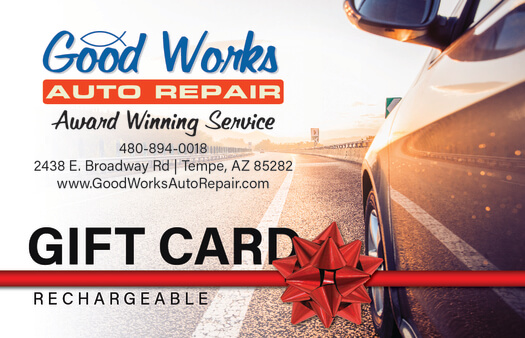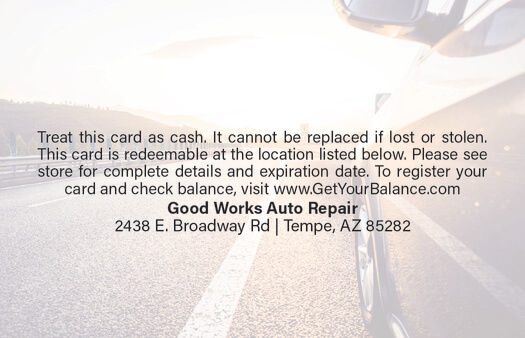 Shop Hours:
M – F: 7:30 – 5:30
Sat: 8:00 – 4:00
by appointment only
We are closed on Sunday
Location:
2348 E. Broadway Rd
Tempe, AZ 85282
"I appreciated the time that Glen took to explain things to me, explain why things needed to be done and also the time to show me! It means alot when the mechanics can take the time to show you what is happening and also to take the time to show you."
Lisa B.
"We've been coming to your shop for about three years now and you never let us down. We continue to appreciate your high level of customer service and will continue to send our friends your way. Thanks again!"
Larry O.
"I appreciate the great work that you do. I especially appreciate knowing if I am going on an out of town trip, that my car has been examined meticulously. Last year, I was planning an out of town trip to Flagstaff; you discovered that my battery was about to expire. I was able to replace it before leaving. Thanks!"
James C.