Text NEW10 to 21000 for 10% off Your First Visit!
Whats Happening at Good Works Auto Repair!
October 2019
It's Shocktober!
For the month of October when you purchase 3 Shocks or Struts you will get 1 Free!
*Offer only available for month of October. Offer cannot be combined with any other offer. Appointment required.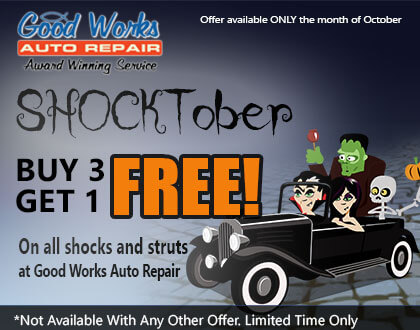 One day you're driving along and your vehicle seems fine and the next you start hearing strange noises coming from inside, behind or underneath. No matter what type of noise you hear – clicking, ticking, popping or screeching – you'll need to get it to a trusted auto repair shop for a diagnosis and some TLC. Proper vehicle maintenance is important and anyone who owns a car knows that it comes with repairs. At some point, you'll hear something that'll grab your attention. How long you wait to get it fixed, though, could mean more money down the road.
Your car is pretty talented – it can go "clunk," "pop," "click," "tick," and "squeal" without being told to. But where is it coming from? Should you be concerned? Could it be dangerous? Listening to your vehicle and working with a mechanic could keep your vehicle on the road longer and much safer, too.
Does it happen when you're braking? A clunking noise could mean a problem with your brakes such as worn steering system components, the disc brake caliper is not mounted properly or brake hardware is damaged or missing. A squealing noise when braking could mean several things; dirt on the brake rotors, drums, pads, and/or shoes, brake pads and/or shoes are worn, brake pads were overheated and are now glazed, disc brake calipers were mounted incorrectly or have come loose or wear indicator on the pads are contacting the rotor.
Does it happen when shifting gears and driving? This could mean that the clutch needs to be adjusted, the clutch is worn, could signal internal damage to the transmission or that the shift linkage needs to be adjusted.
Is there squealing when you accelerate? This could mean your drive belts are slipping, the drive pulleys for some engine accessories are misaligned, you have turned the steering wheel to the limits or drive belts are loose.
Do you hear a scraping noise when you're driving along? You could have a branch stuck to the undercarriage being dragged, your parking brake could be on, your brakes could actually be dragging or brake drum backing plates could be rubbing against the brake drum.
Any noises coming from the back of the car could mean a problem with your brakes. This is a safety hazard and should be addressed immediately. You never want to drive around with failing brakes for obvious reasons.
Finally, if your engine is popping or hesitating, it could mean a dirty air filter, dirty or worn spark plugs, bad spark wires, an ignition problem, a clogged fuel filter, water in your gasoline, a bad accelerator pump or power circuit in your carburetor or a clogged catalytic converter.
No matter what you hear, it is important to have the right repair shop diagnose and repair your vehicle. Funny noises as we're driving along are nothing to laugh at. Act quick and you'll be back on the road in no time, driving better and safer than ever.

Introducing our "Earn As You Go Rewards Card"
We are now offering a reloadable rebate card that you can use towards any future auto service. 
How it works?

Every Time you spend $100 or more on auto service, you will receive 5%  back that will be loaded back onto your "Earn as You Go" card. This credit can be used on any future service on any vehicle you have. Bring the card with you every visit to add and save up for use later down the road! Think of it as our way of giving back to you for being so loyal to us! We appreciate you! 
How You Get Started
It's easy! The next time you come in, if you spend over $100, you will be automatically enrolled and we'll give you your preloaded card on the spot! There's nothing more you need to do!"
Fine Print
5% rebate is calculated on the subtotal (before taxes & fees).  Lost or stolen cards cannot be replaced.  Not redeemable for cash.

Now Certified to Service European Cars!
We have recently hired a new European car specialist! We have hired our new technician Eric Bryan Alcazar and he is a a top 400 certified technician in the country! If you have a European vehicle that needs service, Good Works Auto Repair is now your shop! We could not be more excited to offer this service to those in need!

We Love Reviews
We appreciate your reviews and feedback. Not only does it give us a chance to hear from you, but it allows us to make your repair experience the best possible! If you would like to leave us a review please follow the button below!

Open Saturdays
Make your appointment today!