Text NEW10 to 21000 for 10% off Your First Visit!
A Lot of Exciting Changes Happening at Good Works Auto Repair!
December 2019
December Special!
For the month of December, we are offering 25% OFF any
previously

recommended services*

*Offer valid up to $200. Offer only available for month of December. Offer cannot be combined with any other offer. Appointment required.

Organized people love a list. It helps them get more done, and feel more accomplished when they check something off as being completed.
If you're a vehicle owner, you should love a list, too … a preventative maintenance checklist. It might not make you feel productive, but it will help you know what to do with your vehicle and when. As list items get checked off, it means your car is getting the care it needs to keep it running optimally for longer.
Your preventative maintenance checklist
While there are plenty of things that can, and do, go wrong with vehicles, paying attention to these 10 things will help prevent bigger problems, like transmission or engine failure.
Oil and oil filter change – Most people remember this one. This maintenance item needs to be done frequently, but the timing depends on your vehicle. Many newer vehicles, which use synthetic oil, can go 5,000 – 10,000 miles between oil changes.
Air filter – Just like you need to breathe well in order to function properly, so does your vehicle's engine. A clean air filter will help it do just that, and it should be replaced every 15,000 – 30,000 miles.
Fuel filter – A dirty or clogged fuel filter will cause your vehicle to run roughly. A pressure test performed at your local repair shop can help determine whether or not this filter should be changed, but it often needs to be replaced around the 30,000 mile mark.
Battery – This is especially critical for those of us living in Arizona, as temperature extremes like we experience in the summer months can cause a battery to deteriorate quickly. Most batteries have a maximum life span of 4 – 5 years.
Brake fluid – Brake fluid should be replaced periodically to ensure the proper functioning of the brakes' hydraulic system – often recommended between 20,000 and 45,000 miles.
Brake parts (pads, shoes, rotors) – The safety of you and your passengers really depends on this one, so don't neglect it. Brakes naturally wear out over time and should be inspected frequently to prevent complete failure. Let your mechanic know immediately if you hear strange sounds when braking, or if the brakes just don't feel right.
Coolant – This mix of water and antifreeze is critical for keeping your vehicle from overheating, an event which could leave you stranded and also cause expensive engine damage. Have the coolant replaced, and the whole cooling system flushed, every 60,000 miles.
Transmission fluid – With inadequate amounts of this important fluid, your transmission can malfunction and even fail entirely, leaving you with an expensive repair. Your mechanic can check the fluid's color, which will provide clues to when it should be replaced.
Hoses – Extreme temperatures, as well as age, can cause these fluid-carrying pipelines to crack and sometimes break. Hoses should be inspected frequently and replaced as needed.
Timing belt or chain – Your vehicle will have either one of these. A timing chain typically lasts longer, but should still be inspected regularly as the links can become stretched over time. A timing belt, however, will wear out more quickly and leave you stranded on the side of the road when it does. This is one time when the old adage "if it ain't broke, don't fix it" does not Check with your local repair shop, but most mechanics recommend replacing the timing belt around 75,000 – 90,000 miles as a preventive measure.
Scheduling preventative maintenance
So there you have it … your preventative maintenance checklist to keep your vehicle healthy and running smoothly. Now, it's time to get to work. Give us a call, or schedule an appointment online … the choice is yours!

Introducing our "Earn As You Go Rewards Card"
We are now offering a reloadable rebate card that you can use towards any future auto service. 
How it works?

Every Time you spend $100 or more on auto service, you will receive 5%  back that will be loaded back onto your "Earn as You Go" card. This credit can be used on any future service on any vehicle you have. Bring the card with you every visit to add and save up for use later down the road! Think of it as our way of giving back to you for being so loyal to us! We appreciate you! 
How You Get Started
It's easy! The next time you come in, if you spend over $100, you will be automatically enrolled and we'll give you your preloaded card on the spot! There's nothing more you need to do!"
Fine Print
5% rebate is calculated on the subtotal (before taxes & fees).  Lost or stolen cards cannot be replaced.  Not redeemable for cash.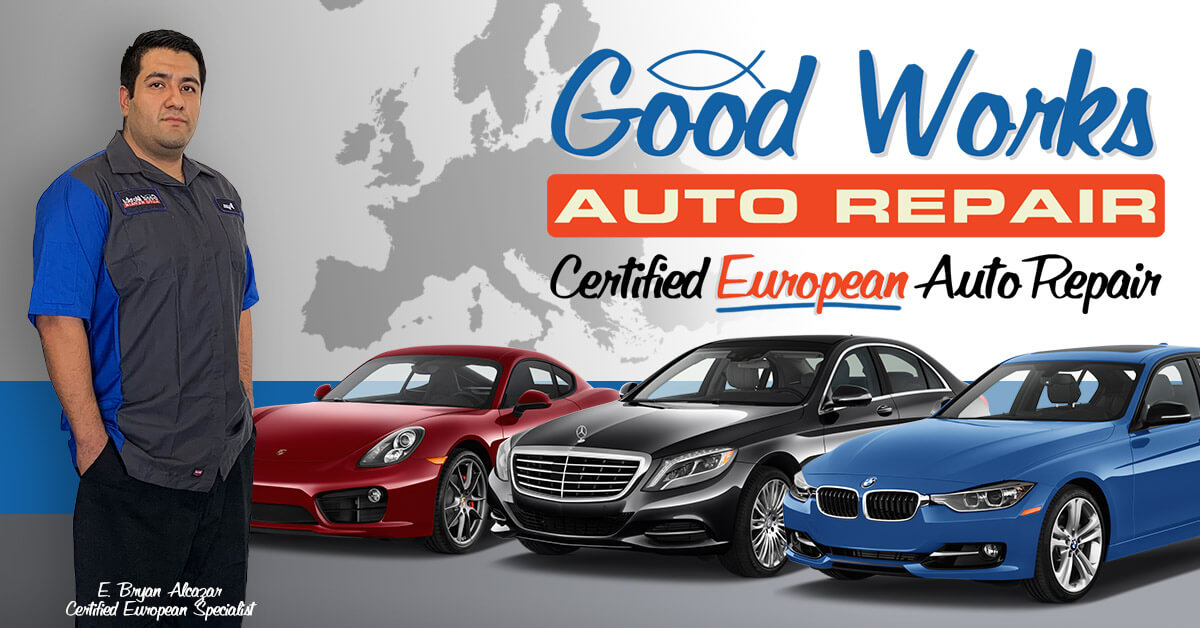 Now Certified to Service European Cars!
We have recently hired a new European car specialist! We have hired our new technician Eric Bryan Alcazar and he is a a top 400 BMW certified technician in the country! If you have a European vehicle that needs service, Good Works Auto Repair is now your shop! We could not be more excited to offer this service to those in need!

We Love Reviews
We appreciate your reviews and feedback. Not only does it give us a chance to hear from you, but it allows us to make your repair experience the best possible! If you would like to leave us a review please follow the button below!

Open Saturdays
Make your appointment today!