Text NEW10 to 21000 for 10% off Your First Visit!
Whats Happening at Good Works Auto Repair!
August 2019
Keep Those A/C's in Check!
Bring your vehicle in with the coupon below and service your Air Condition system to stay ahead of the heat!
*Offer cannot be combined with any other offer. Appointment required. 
Dead Battery Season is Here!
For a limited time, get a Free Lifetime Battery Certificate with your purchase of a battery here at Good Works ($20.00 value). Your Battery Warranty has NO expiration date! Call for details.
*Offer cannot be combined with any other offer. Appointment required. Offer only valid through Monsoon Season!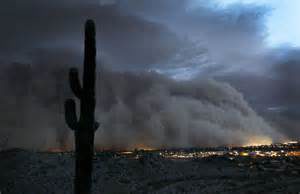 If you're new to Arizona, then you may or may not have experienced a dust storm. If you've been a resident for a long time, then you probably have. Many of our customers come in to our  auto repair shop because they're concerned about the damage that their vehicle may have suffered after a dust storm or two have passed. Even if your vehicle is sitting in your driveway as the dust clouds and debris pass by, your vehicle could still see some effects that could be fixed or monitored with some important preventative maintenance every now and then. Of course, damage to a vehicle isn't the only thing that we worry about when it comes to Arizona dust storms. Safety on the road during a dust storm is also important and we have included some tips for drivers to remember should they get caught while driving.
In Arizona, the months of May through September often produce dust storms that can appear with little to no warning. A dust storm usually arrives suddenly in the form of an advancing wall of dust and debris which may be miles long and several thousand feet high. The dust makes for some pretty hazardous driving conditions, such as little to no visibility, causing accidents that may involve chain collisions, creating massive pileups. Dust storms usually last only a few minutes, but the actions a motorist takes during the storm may be the most important of his or her life. According to AAA, motorists are reminded to:
If you see a dust storm forming in the distance, exit the roadway immediately.
Reduce speed and turn on lights.
Once you are able to, pull off the roadway completely and turn off your vehicle's lights to ensure other cars do not follow you off the road and hit your vehicle.
Wait until the dust storm had passed before getting back on the highway. You want to have at least 300 feet of visibility before you resume driving. You will also want to check your windshield for cracks.
 If you are walking or riding your bike, get inside quickly or seek shelter.
After a dust storm, you'll want to check your vehicle for any damage. This includes your windshield, under carriage, grille, air filter  and paint. Some are cosmetic and other components we like to check for safety reasons. For example, a clogged air filter  can lead to engine  problems down the road if dirt and debris get into it or cannot be filtered. Likewise, obstructions in the radiator or grille can cause your vehicle to overheat. You should get your car checked regularly to ensure that these Arizona dust storms do not do unnecessary amounts of damage to your car. Proper car maintenance can help keep your car running for a long time, as well as keep you and other drivers safer on the road. Contact us today or schedule you appointment online and have your vehicle checked for damage after a long and active dust storm season here in the Southwest.

Last month we recently celebrated our 15th year anniversary. Wow. What. A. Ride.
We couldn't be more honored to have gained all of your trust in our service across the years. 
We thought it would be cool to share some statistics with you over the course of those 15 years…
53,000 work orders completed
21,245 different customers served
1,700 customer referrals – this one is special, so a big thank you to all of you 
1,6000 bulbs installed
1,900 Wiper Blades installed
72,000 quarts of motor oil
Oldest vehicle worked on – 1929 Ford
19,163 different vehicles have been in our shop. 
Thank you ALL. Here's to another 15 years!
-Glen and RaeAnn Hayward

Open Saturdays
Make your appointment today!