What's Happening at Good Works Auto Repair This Month
Tips, News, Offers, Events & More!

OFFER
15% Off Diesel Customers
Facepay
Contactless Payment Solutions & Easy Sign Up
Article
The New Normal: Protecting Your Investment by Maintaining Your Car
Customer Care Program
New Digital Rewards Program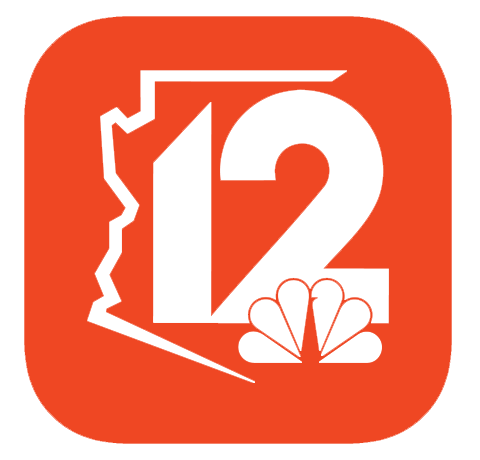 Video
Good Works on Channel 12: How to save money on gas!
Are you always short on time? You can now skip the chit-chat and pick up your car with very little wait! Simply create a Facepay account with us – it's quick & easy – and you can pay using the app.
Here's how it works … we work with you on approved repairs over the phone and when your vehicle is ready for pick up, we simply text you the details, and you pay through the Facepay app.
Then you can pick up your car at your convenience (and even after hours!). There's no waiting in line for checkout. And even though we will miss you, you can skip the chit-chat!
Life is short. Don't waste it waiting in line to pay. Get Facepay today and get on the road faster. For more information, visit our page all about Facepay!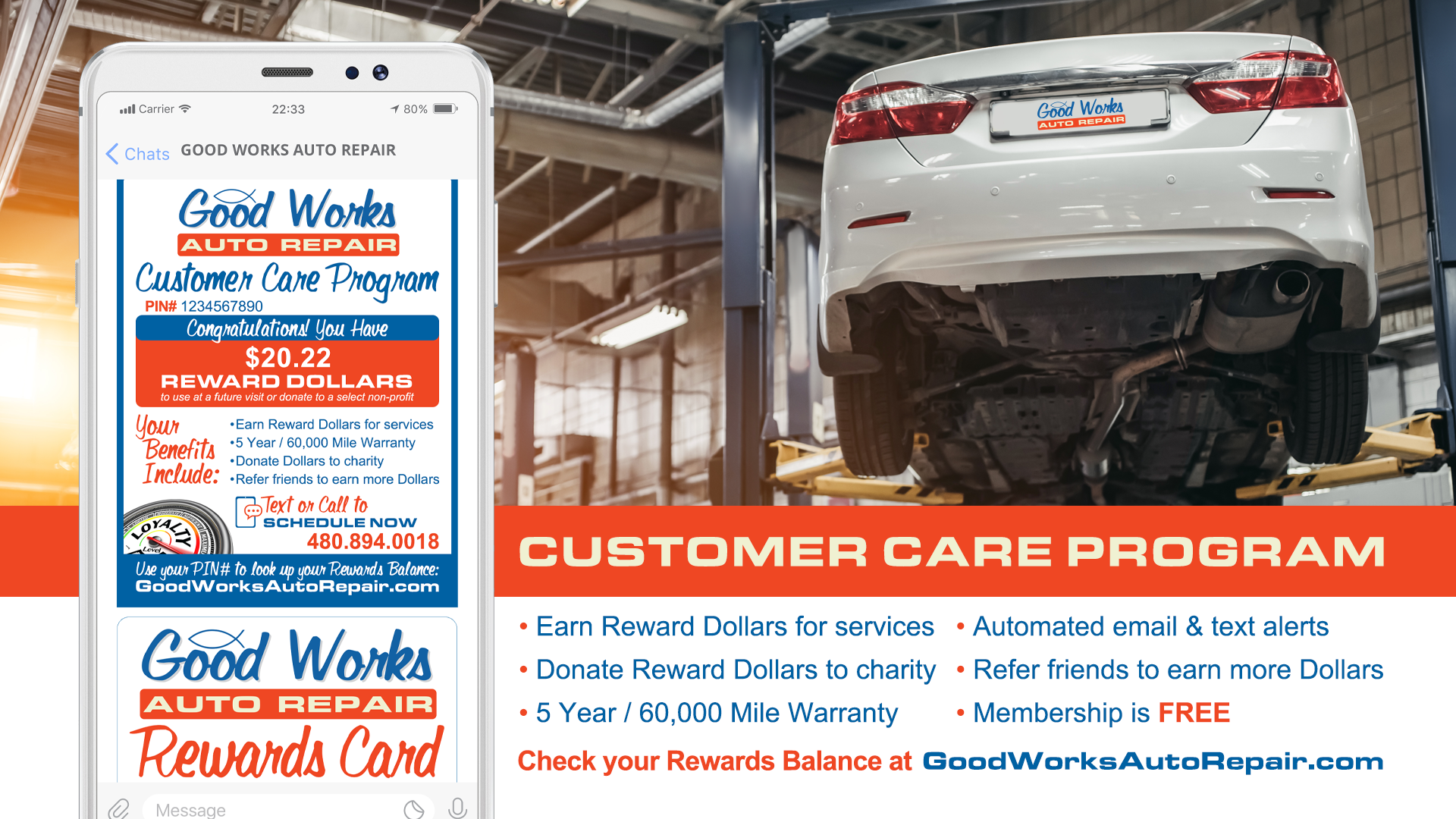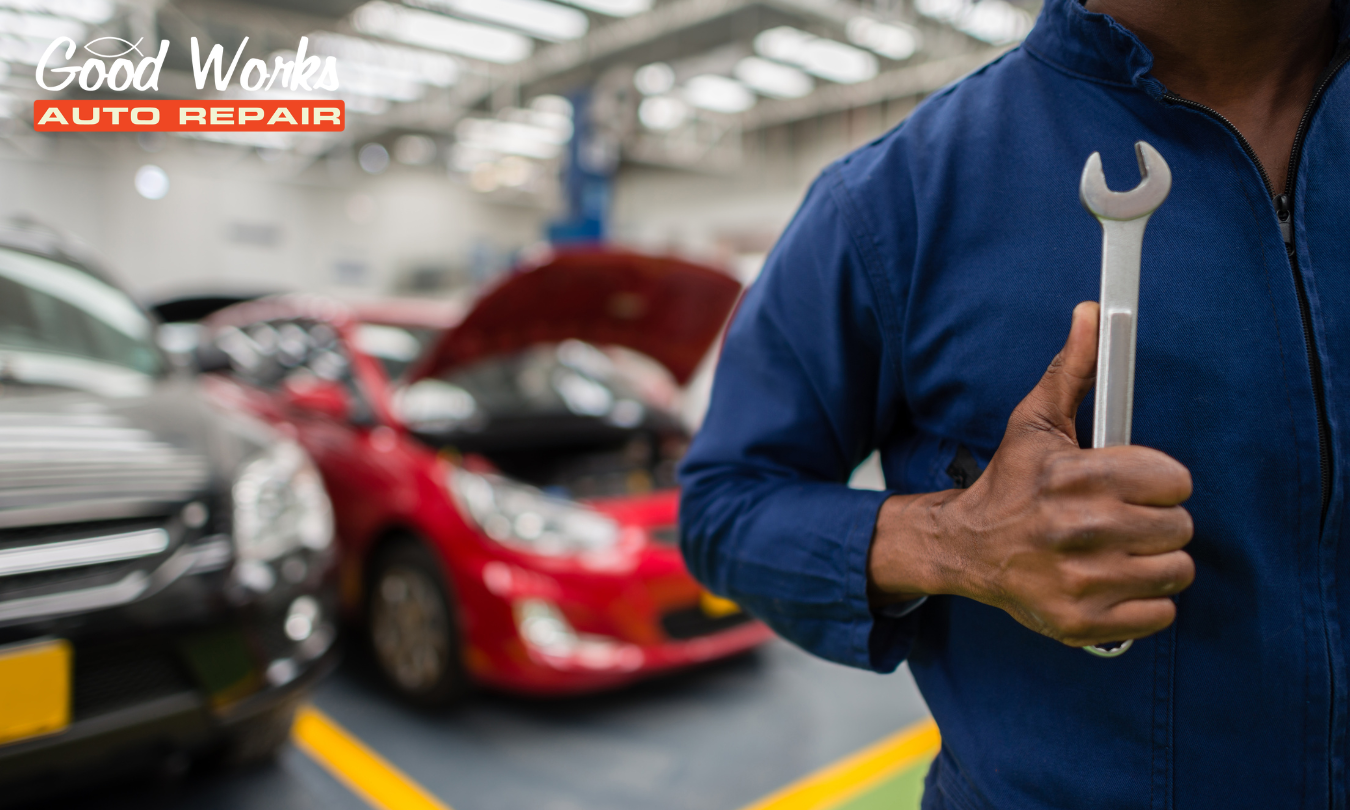 The New Normal: Protecting Your Investment by Maintaining Your Car
At Good Works Auto Repair, we've always been big proponents of maintaining your car. After all, when you properly take care of your vehicle, it often lasts longer and you have the potential to get more miles and time out of your investment. Routine preventative maintenance can also help you avoid some major repairs, saving you time, money, and hassle down the road.
Why is maintaining your car so important right NOW?
Potential savings on auto repairs plus a vehicle that lasts longer might be incentive enough for you to schedule regular maintenance appointments at your local auto repair shop. But is there any other reason why maintaining your car is so vital at this specific point in time? Yes!
Throughout the pandemic, perhaps you noticed that new car lots looked a little emptier than normal. Thanks to a variety of factors including manufacturer shutdowns and chip shortages, fewer cars were actually produced. What did people do if they needed a different vehicle but a new one wasn't available? They turned to buying used cars, leading to both high prices and shortages in the used car market.
As our society returns to a new normal after the pandemic, new car production is still catching up and prices remain high. In some cases, new car prices have increased so much over a short period of time that a new trend has emerged – car flipping. Rather than buying a new car and driving it for several years before trading in, some people are buying new cars and then selling them a few months later at a higher price.
Used cars also continue to fetch record high prices. According to the Bureau of Labor Statistics, used vehicles currently cost 53% more than they did at the beginning of the COVID-19 pandemic. That means you may still pay less than the price tag for a new car but you'll likely pay more and get less compared to pre-pandemic days.
Auto repairs and maintenance in Tempe, AZ
When looking at the car market today, the reality is this … Whether you buy a new or used vehicle, it's going to cost you significantly more money than it did just a few years ago. That's why we recommend maintaining your car now instead of purchasing a different one. Even if your current vehicle is in need of repairs or maintenance, having these items completed could still be much cheaper than buying a new car or a new-to-you-used vehicle.
At Good Works Auto Repair, we make getting the best auto repair and maintenance services in Tempe easy. Our ASE-certified automotive technicians know exactly what your car needs and when. In fact, we even provide you with a digital inspection report that shows what's right with your vehicle, what's in urgent need of repair, and what needs attention soon but can wait until a later date. Armed with this valuable information, you can then make important decisions about your vehicle's care in a way that fits your budget and your schedule.
Are you ready to make maintaining your car easy and convenient? Simply contact us to schedule an appointment today!

Videos
from Good Works Auto Repair
Channel 3 News with Good Works Auto Repair – Check Your Battery and Tire Health

Preventative Maintenance Keeps Your Car Running Longer!
Good Works Featured on Channel 12 News: How to save money on gas!

How To Prevent Catalytic Converter Theft
Catalytic Converter Theft is on the rise! Here are three ways that Good Works Auto Repair is helping customers protect their catalytic converters and wallets!
Subscribe to Our Channel!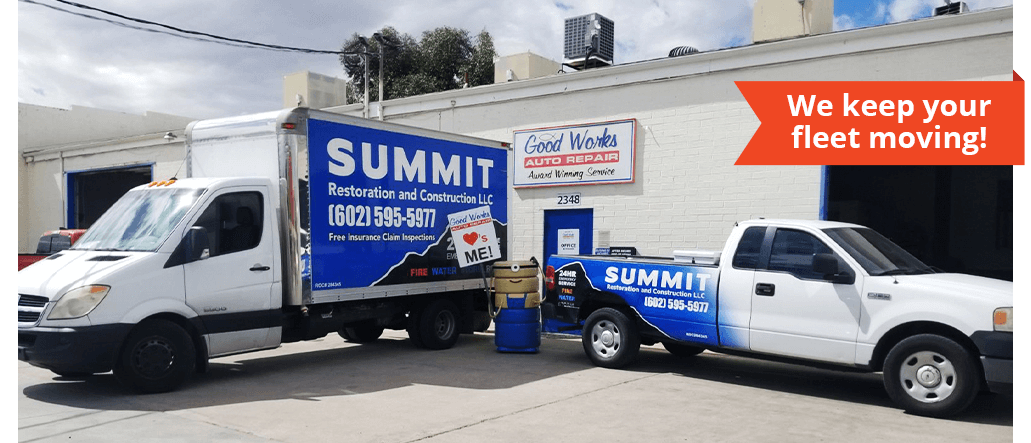 We Offer Fleet Services in Tempe & Mesa
Good Works Auto Repair is happy to offer fleet repair and fleet services to the Greater Phoenix Area, including Tempe and Mesa. If you are looking for an Auto Repair shop that puts customer satisfaction first, Good Works is the repair shop for your fleet services and repair. Good Works Auto Repair promises to make your fleet a priority. Call our Tempe/West Mesa office today and receive priority scheduling for your next fleet service or repair.
We know how important your fleet is to your bottom line. We know that even one vehicle down costs you time, money, and customer satisfaction. Good Works Auto Repair fleet service promises that your fleet is our priority. You automatically receive priority scheduling, convenience, and a partner in keeping your fleet on the road!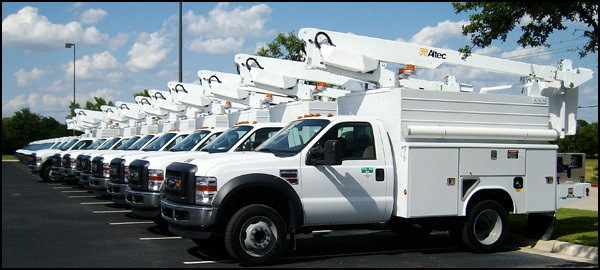 Open Monday – Friday
Make your appointment today!
"*" indicates required fields