Text NEW10 to 21000 for 10% off Your First Visit!
Whats Happening at Good Works Auto Repair!
June 2019
Keep Those A/C's in Check!
Bring your vehicle in with the coupon below and service your Air Condition system to stay ahead of the heat!
*Offer cannot be combined with any other offer. Appointment required. Offer expires April 30, 2019
Dead Battery Season is Here!
For a limited time, get a Free Lifetime Battery Certificate with your purchase of a battery here at Good Works ($20.00 value). Your Battery Warranty has NO expiration date! Call for details.
*Offer cannot be combined with any other offer. Appointment required. Offer only valid through Monsoon Season!

Your Tires are Heating Up!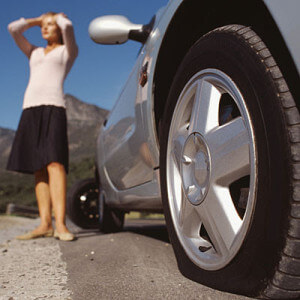 We always see a strong correlation at the repair shop between hot summer temperatures and increased tire blowouts.  Here in Arizona, during the heart of summer, the average temperature is a scorching 104 degrees, with many days soaring way above that. These extreme heat conditions are exceptionally hard on vehicles – the engine, battery, fluids, leather, consoles and especially the tires are all susceptible to heat damage. Today we are going to focus on the tires, how does heat affect them, should they be replaced and how can you minimize the damage as the temperature soars?
Tires are made of rubber, and while that means they have some great heat tolerance properties, they are still vulnerable to extreme heat. Tires obviously produce friction as they propel your vehicle down the road, and as we all know, friction produces heat. Tires are engineered to withstand the normal heat produced from tire friction, however, when the temperature soars well over 100 degrees and the pavement begins to boil, the heat produced can become so extreme that it can have some disastrous results on under-inflated or already damaged or compromised tires.
Heat affects tire pressure, so it is even more important during the summer months to monitor your tire's air pressure. Your vehicle's optimum tire pressure recommendations are typically found inside the driver's side door jamb, but they can also be found in your owner's manual. Most auto manufactures recommend checking tire pressure once a month, usually in the morning when they will be the coolest.  Underinflated tires allow more surface area of the tire to come into contact with the road, causing more friction and heat. This is why underinflated tires are one of the leading causes of blowouts.
It is also extremely important to check the integrity of your tires before the heat soars out of control. If you notice any bulges, cracks, uneven wear or low tread, it is vital to have your tires replaced as soon as possible. Driving on damaged tires, especially during the summer when tires are already subjected to abuse, can easily lead to a blowout. Also, if you notice that your car isn't handling as well as normal, feels like it might be drifting a bit on the road or you squeal your tires easily, have them checked out because they most likely need to be replaced.
When replacing your tires, you might want to consider buying a higher quality tire with a better heat rating as well. All tires are given a temperature rating from A to C. Tires with an A rating are able to dissipate more heat under load than a C rating. Tires with lower heat ratings are more prone to heat-induced failure, especially in hot weather climates or if the vehicle is regularly driven at high speeds. A vehicle's tires might not seem all that exciting, but they are probably one of the most important safety components on your vehicle, and as such should be inspected often and replaced as soon as they start showing any signs of damage.

5 Year/60k Mile Warranty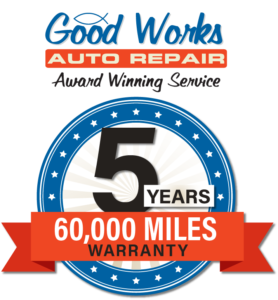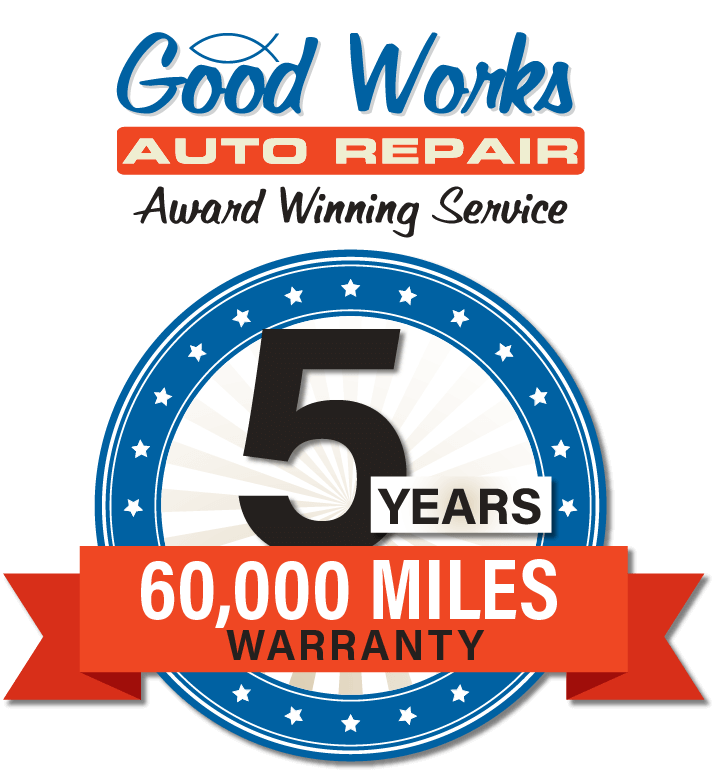 Did you know, the nation average warranty is just 2 years/ 24k mile warranty? At Good Works, we are so confident in the quality of the parts and the practices we use,  that we stand behind our work with a 5 year/ 60,000 mile warranty on parts and labor.  This warranty is restricted to certain types of auto repairs.  Repairs must be performed with parts determined to be of appropriate quality and must accompany best practices for that repair. "Wear and tear" and maintenance items** are covered by our standard wear warranty that apply to that item.  For the first 24 months / 24,000 miles the warranty is nationwide, for the duration of the warranty all repairs MUST be completed at Good Works Auto Repair.   Warranties are not transferrable.  Good Works will not pay another facility to perform warranty repairs.  To keep warranties in effect, some maintenance items may apply.  Good Works reserves the right to void any warranty if there is evidence of abuse, modification, neglect, intentional damage or repair of another system has affected the original warranted repair.  Good Works will not warranty any parts of the vehicle that was not repaired at Good Works originally, regardless of how damaged. Other exceptions may apply.

Open Saturdays
Make your appointment today!