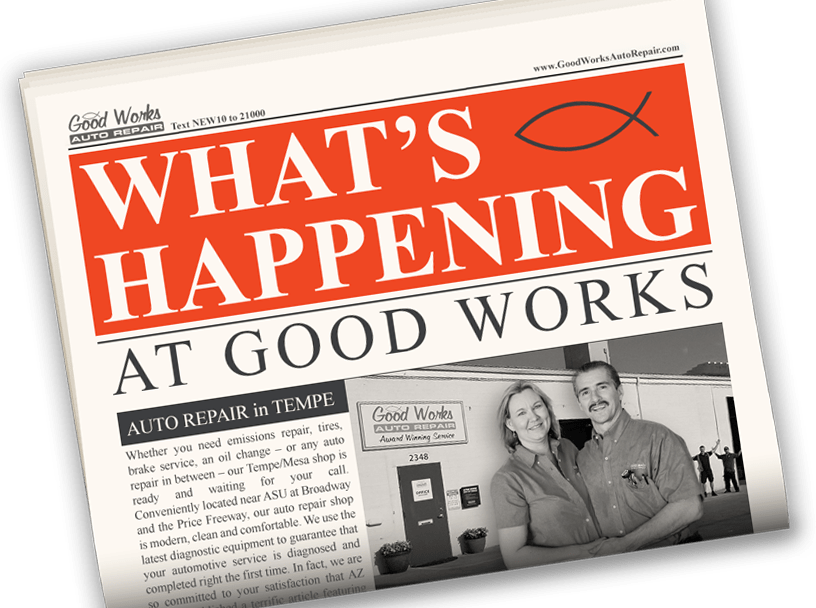 What's Happening at Good Works Auto Repair This Month
Tips, News, Offers, Events & More!
Text NEW10 to 21000 for 10% off Your First Visit!
Our staff has been working tirelessly and continuously for you to provide quality service throughout the pandemic. Oftentimes, because we were open on Saturdays, they have worked without two days off in a row to keep up with demand. We need to give our staff a much needed break and close on Saturdays to give them the entire weekend to recharge and be with family. We will continue to be here to service your automotive needs Monday-Friday. Also, don't forget we offer complimentary shuttle service and onsite car rentals to make your visits here as easily accessible as possible. We are thankful for the opportunity to service your automobile and thank you for your continued support.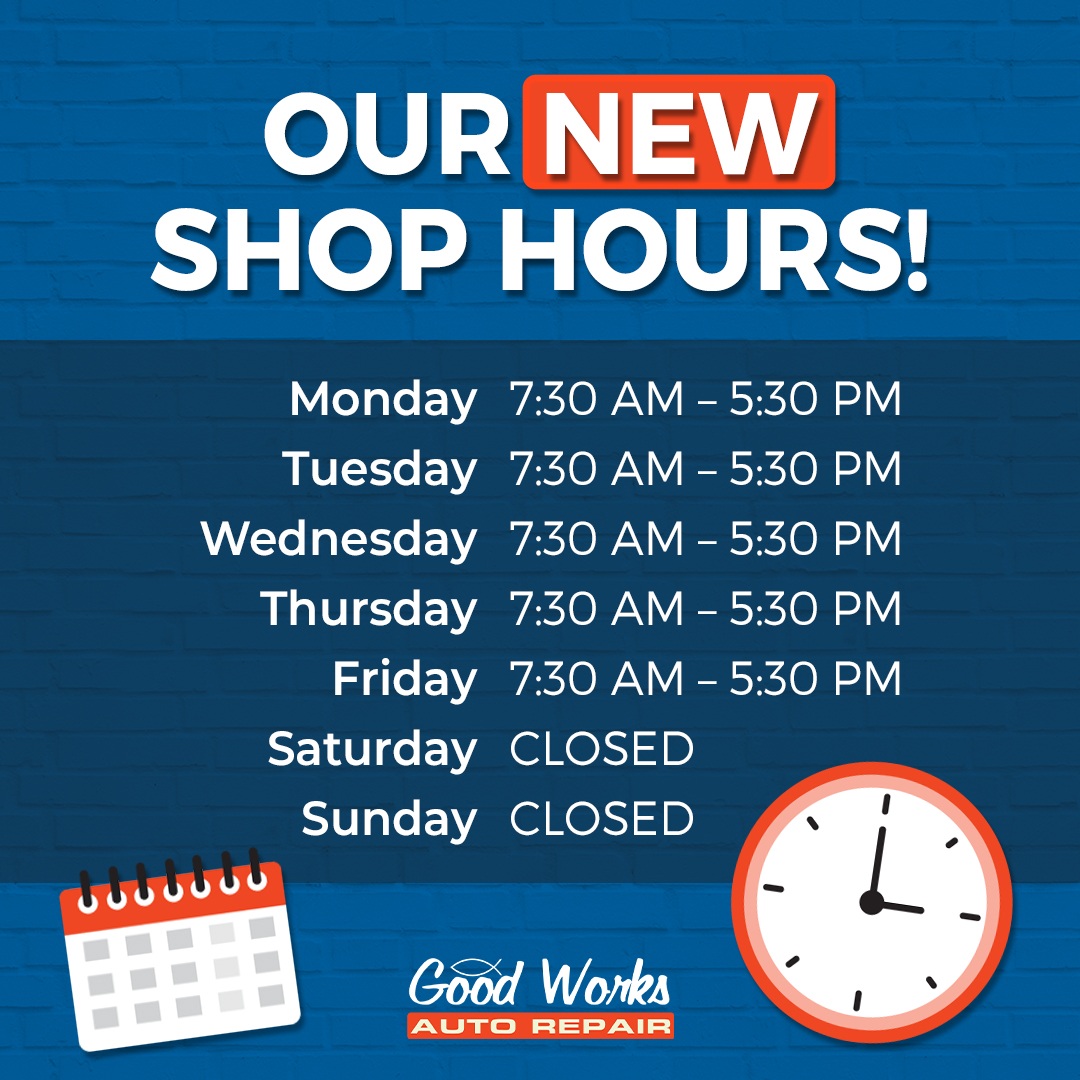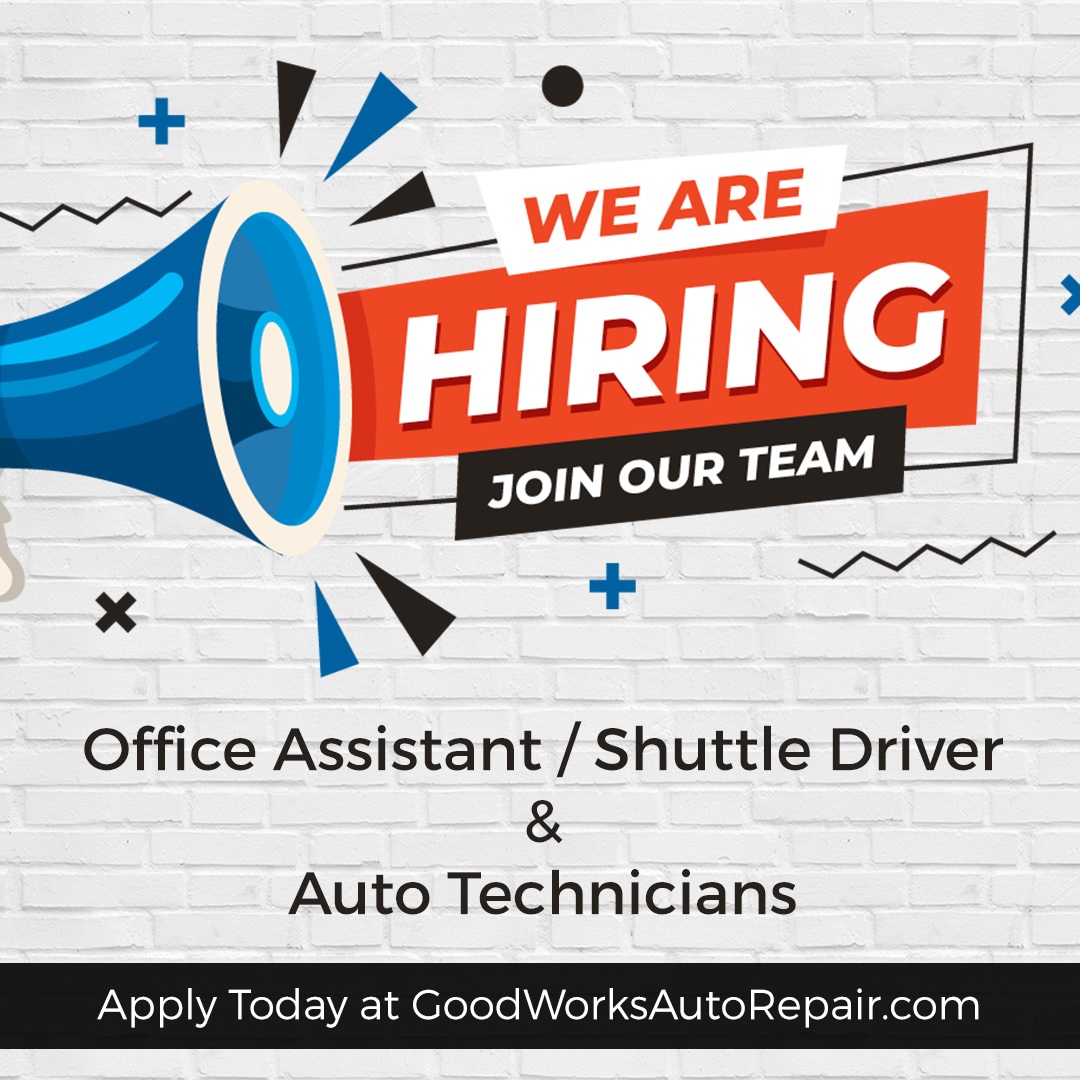 Careers at Good Works Auto Repair in Tempe, AZ
Why is Good Works Auto Repair the best in the industry? Easy, it's because of our employees. We know that it is impossible to make our customers happy if our employees aren't happy. That's why we lock up the shop on weekends, do our best to work with our employees' schedules, and provide a caring, respectful work environment. The Good Works team isn't just about working together, we're more like a family – a family with common values like honesty, integrity, and a genuine interest in the lives of those in whom we come in contact. To some, it might sound corny, but if you get a real sense of satisfaction from doing a job right – every repair, every time – you'll fit in well with our family.

Your Guide to Understanding the Numbers On Your Tires
The last time you brought your vehicle to your favorite Tempe auto repair shop, your mechanic recommended that you get new tires. Maybe your driving habits have made your tires wear out prematurely. Or, perhaps the tires you have are simply old and need to be replaced. Either way, you've been doing some shopping around and you're confused about what those numbers on your tires actually mean.
What's the difference between each one and can you use different tire sizes than what you currently have on your vehicle? Let's break it down by looking at what the numbers on your tires mean and how understanding them can help you make the right purchasing decision.
What Do the Numbers On Your Tires Mean?
The code you see on your tires is a series of numbers and letters. For example, it may look something like this: P 235/55 R 18.
P indicates the

 

vehicle type

 

for which this tire is intended. In this case, P stands for Passenger. Other letters you may see are LT (Light Truck) or T (Temporary, usually your spare tire).
235 is the

 

section width, or measurement from your tire's sidewall to sidewall, given in millimeters.
55 denotes your tire's

 

aspect ratio, or the percentage of your tire's sidewall height to its width.
R is the code which describes your

 

tire design.

 

The most common letter is R, for Radial, but other letters include D for Diagonal and B for Bias Belt.
18 tells you what

 

wheel size

 

this tire can be mounted on.
Other Letters and Numbers On Your Tires
There may be other markings on your tires as well. Some of the most common are listed below:
Load index:

 

Shown as a two-digit number, this indicates how much weight your tires can safely carry. While this may not be much of a concern for most passenger vehicles, this is extremely important for trucks and any vehicles carrying a sizable load.
Speed rating:

 

Oftentimes, there is a letter that follows the load index. This indicates the maximum safe speed for these tires. While this may not be as important for the average vehicle owner, it

 

is

 

important for off-roading vehicles or ones used for racing.
DOT code:

 

Also known as the tire identification number, this 12-digit string of numbers tells you where the manufacturer made this tire as well as what week and year it was made. The two-digit year code at the end is especially helpful if you're purchasing used tires and want to know exactly how old they are.
Is It Okay to Switch Tire Sizes?
Sometimes, you may be tempted to change tire sizes if you find a great deal on new or used tires that you think will fit your vehicle. However, we suggest that you stick with the manufacturer-recommended tire size. That's because a different size can affect your speedometer reading, gas mileage, alignment, or even cause mechanic issues.
Get the Best Tire Service in Tempe
Now that you have a better understanding of what the letters and numbers on your tires actually mean, let's talk about tire service. Keeping your tires in great shape is essential for your driving safety. That's why we recommend regular visual inspection of tires for tread depth, wear, and any obvious issues.
If you're looking for professional tire service in Tempe, you've come to the right place! We offer tire repair, tire rotation, tire mounting and balancing, and tire sales all in one convenient location. Simply give us a call or schedule an appointment online today!

Please don't put off your regularly scheduled maintenance. Our techs will often recommend to fix something if there is a problem. They are not trying to upsell you. They are looking out for your vehicles health and your safety. A little maintenance goes a long way, and can save you thousands of dollars down the road! Watch this episode of Under the Hood With Glen to find see what happens when you put off maintenance.
Subscribe to Our Channel!
Meet the Service Advisors!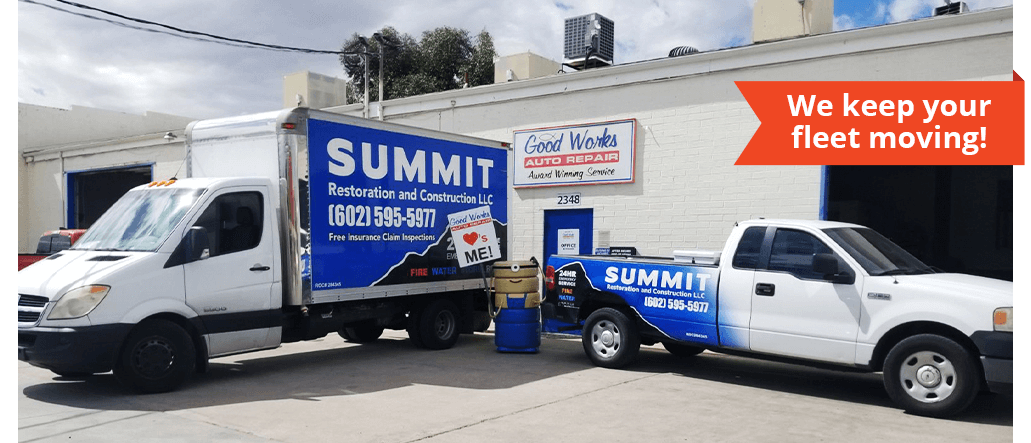 We Offer Fleet Services in Tempe & Mesa
Good Works Auto Repair is happy to offer fleet repair and fleet services to the Greater Phoenix Area, including Tempe and Mesa. If you are looking for an Auto Repair shop that puts customer satisfaction first, Good Works is the repair shop for your fleet services and repair. Good Works Auto Repair promises to make your fleet a priority. Call our Tempe/West Mesa office today and receive priority scheduling for your next fleet service or repair.
We know how important your fleet is to your bottom line. We know that even one vehicle down costs you time, money, and customer satisfaction. Good Works Auto Repair fleet service promises that your fleet is our priority. You automatically receive priority scheduling, convenience, and a partner in keeping your fleet on the road!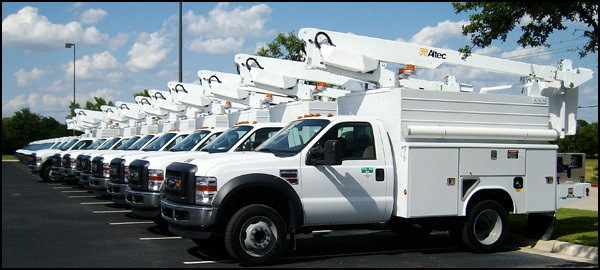 Open Monday – Friday
Make your appointment today!