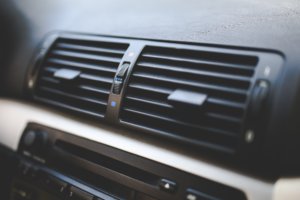 Think your air conditioning system in your vehicle isn't that important to maintain? Think again. It cools, conditions and circulates the air in your vehicle. Without it, the air could get pretty stale. The interior air is what you inhale and exhale and without a properly functioning A/C system, imagine what the air might get like in there over time. It also removes moisture from the air to keep your windows clear and not fogging up. For such a common feature that most people expect just to keep us cool while we're riding along, it actually has a pretty important job ensuring the interior air is clean and safe for you and your passengers. Of course, in the hot Arizona temperatures, keeping us cool is also a great feature!
Common Air Conditioning Problems
So what exactly are some common A/C system problems that you should look out for? One thing is contaminated refrigerant, or the gas that cools the air. Over time, contaminants and debris can clog the system while the interior of your A/C hoses deteriorate making for a much less efficient system. This could also lead to overworking other A/C components which could mean costly repairs.
Leaks are also common when it comes to your A/C system. When hoses, seals or gaskets develop a leak, it can cause the entire system to work harder and less efficiently. The same thing happens with dirty components. An overworked A/C system could mean trouble for your vehicle – and your wallet.
If you're noticing any issues with your air conditioning system, it is important to talk to your trusted Tempe auto repair shop about A/C system services. Our A/C service includes an inspection of your system pressures, vent temperatures, belt tension and air volume. If any of these are not working properly, we'll diagnose the issue and repair your A/C system. This is a service we recommend each summer before you begin driving in the heat or heading out on a long road trip. We even offer online coupons on our website for this service – so stay cool this summer and let us take care of the rest