As many of you know, whether you're one of our repair shop customers or fellow small business owners, owning a small business within this community can be a lot of work.  We take pride in being a leader in the community, focusing on customer service and community service as our core values. In doing so, we have the privilege of meeting many people in multiple capacities, from lifelong residents to folks in positions of authority – even the Vice President of the United States!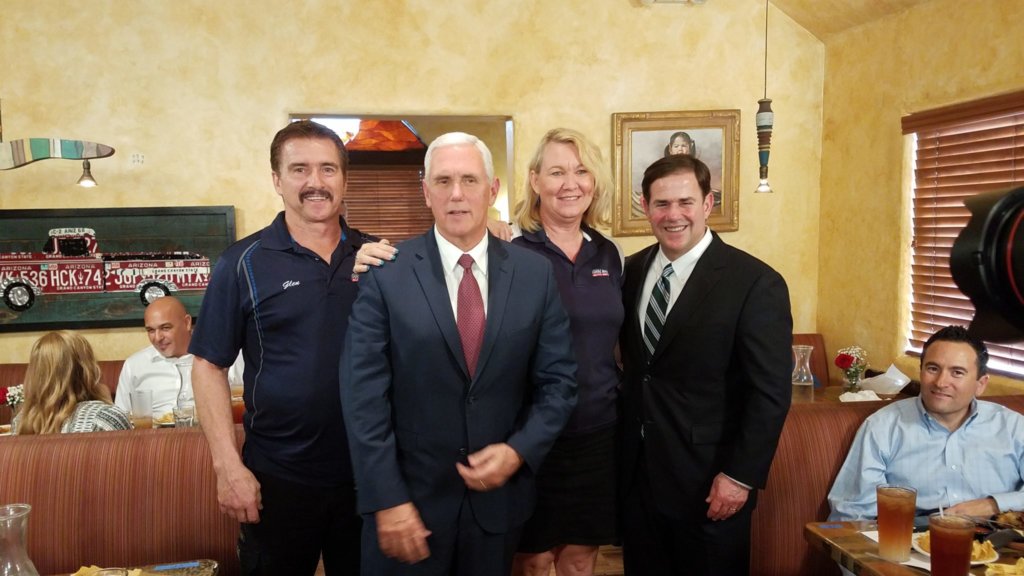 Vice President Mike Pence recently visited with local community and business leaders right here in Phoenix on October 3rd.  Our repair shop leaders, RaeAnn and Glen Hayward were fortunate enough to sit down with the VP while he was in town chatting about the need for tax reform. We are proud to have had the opportunity to join in on this very important conversation.  President Trump wanted the VP to listen to the "job creators and to listen to the great leadership in Arizona about the best way to go forward."
What makes a leader in business is how they lead in the community – it all starts with service. This opportunity arose as a result of our dedication to the members of this region and meeting their needs, listening to their concerns and always putting the person first. While we are proud of where our business has grown over the last several years – a Business Excellence Winner by the Tempe Chamber of Commerce – we are most proud of our efforts within the community. We participate in such programs as Packages From Home, Toys for Tots, Grace's Cottage, Helping Hands for Single Moms, Walk-N-Roll for Spina Bifida, and St. Mary's Food Bank and we will continue to support these worthy causes as our community needs them.
We work hard to make sure your vehicles are maintained and safe on the roads, but never doubt that we will put customer service first. Service for your vehicle, service for the customer. Come on over to our local repair shop and let us tell you more about our recent visit and what this means for businesses in the area!