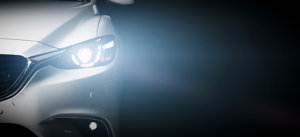 Many of us drive once the sun goes down, and as the days get shorter, it becomes more apparent that we will need our car headlights more now than ever. You might not think about it very often, but they really are an important safety feature of our vehicles. If they are not working properly, it could put us and others on the roads at risk. Proper preventative maintenance and periodic checks could help ensure that your headlights are road trip ready.
Whether you're buzzing around town or you're heading out on a longer destination, when the sun goes down, the driving risks go up. The reason for this is that driver vision is compromised at night, negatively impacting depth perception, color recognition and peripheral vision. According to a 2016 survey from SYLVANIA Automotive, 28 percent of motorists have difficulty seeing hazards and 62 percent of drivers try to avoid driving at night! If your lights aren't working, or are dim – that could make your visual acuity even worse!
Maintenance Tips for your Headlights
Find a trusted auto repair shop and have them ensure you're vehicle is ready for nighttime driving. In the meantime, here are some car care tips you can take to help maintain your vehicle's headlights:
Replace them before they burn out
Headlights can dim over time, so if you notice that they aren't very bright, you'll want to replace them.
Swap them out in pairs
You'll want to keep the lights even. Since they dim over time, a new bulb paired with an old bulb creates an uneven field of vision for drivers, which can be a major distraction on the road.
Upgrade and spend a little extra on quality bulbs
We know auto repairs can add up over time, however, investing in quality lights can help improve down-road visibility making you feel safer and more secure when driving in the dark. Look for a light that is whiter or with maximum clarity.
Get help from a mechanic
If you don't feel comfortable working on your vehicle yourself, give your local auto repair shop a call for some help.
Replace older headlight lenses
Older vehicles may have faded, cloudy plastic headlight lenses. Consider replacing them so the light can shine clearly.
Properly aim your headlights
Headlights need to be aligned properly so they are projecting light down at the road rather than into the eyes of oncoming drivers. This also helps to keep them working for you even better.
Improving the quality and state of your headlights means increasing your safety on the roads. During the longer darker winter months, there is nothing more important than that! Our tempe auto repair shop is ready to help!