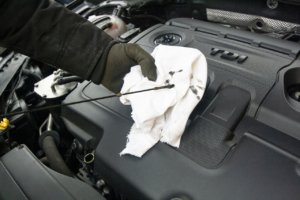 Ever wonder how to make your car last longer? The answer is easy: maintenance, maintenance, maintenance. April is National Car Care Month and a great time to focus on helping your car run at its best since winter is officially over. Many people will also be gearing up for road trips this summer. Paying attention to the little things that keep your car going will help avoid more extensive costly repairs later.
Basically, if you follow the owner's manual for recommended preventative maintenance, your car should last a very long time. But who reads the owner's manual?
Preventative Maintenance Tips
The Car Care Council and Kelly Blue Book recommend the following 10 tips to make the engine, transmission and other expensive parts of your vehicle last longer.
Check the oil, filters, and fluids: Oil should be checked at every fill-up and regular oil changes performed per the owner's manual recommended intervals. Brake, transmission, power steering, coolant and windshield washer fluids should also be checked regularly. Your car's filters, including those for the transmission, fuel system and interior ventilation, need regular inspection and replacement.
Keep a clean engine air filter: Just like the filter in your home air conditioning unit; if it isn't changed frequently it becomes clogged and it affects the performance of the air conditioner. A dirty engine air filter can reduce miles per gallon, hurt engine performance and contribute to higher engine emissions.
Rotate tires and check tire pressure: The owner's manual will say when the tires should be rotated and alignment checked. Equally important is maintaining proper air pressure to get more miles out of each tire. A sticker on the driver's door frame lists the tire pressure for the front and rear tires. And don't forget the spare tire too!
Inspect hoses: Hoses should be checked at each oil change. Have them replaced when leaking, brittle, cracked, rusted, swollen or restricted. Check V-belts and serpentine belts for looseness and condition. Have them replaced when cracked, frayed, glazed or showing signs of excessive wear. Again, check the owner's manual for the specified interval to replace hoses to avoid a breakdown or serious engine damage.
Check the engine brake system: This is recommended every year and you should have the brake lines, rotors, and drums inspected at each oil change.
Check the battery: It is important that the connection is clean, tight and corrosion-free. Many times, the car won't start and the owner believes they have a dead battery, but all it needed was for the battery terminal to be cleaned free of corrosion and the connection tightened and then it works! If the battery is more than three years old it should be tested and replaced if necessary.
Inspect the exhaust system: Exhaust leaks can be dangerous and must be corrected without delay. Check for leaks, damage and broken supports or hangers if there is a noise you don't normally hear.
Check the car's heating, ventilating and air conditioning (HVAC) system: Proper heating and cooling performance is critical for interior comfort and for safety reasons, such as defrosting.
Inspect the steering and suspension system: Once a year these systems should be inspected including shock absorbers and struts, and chassis parts, such as ball joints, tie rod ends and other related components.
Test exterior and interior lights: Bulbs that are not working should be checked immediately. Replace windshield wiper blades every six months or when cracked, cut, torn, streaking or chattering for optimum wiping performance and safety.
Automotive Maintenance Saves Money
Neglected car care almost always means more expensive repairs down the line. So why not be proactive and keep your car up to date on maintenance. Whether you do it yourself or take your car to a professional, make sure your car is ready for spring and summer travel!