Answers From Your Tempe Auto Experts
At our Tempe auto repair shop, we get all kinds of car-related questions from our customers. That's because they know we're always willing to give a straightforward and honest answer. We often hear questions like:
Here's one of our all-time favorites … How often should I wash my car? You can check out our blog for answers to the other questions above but for now, let's splash into the car wash question.
How Often to Wash Your Car
If you're looking for the simplest answer here, this is it – every two weeks. That being said, a bi-weekly car wash schedule may or may not make sense for your vehicle because the most detailed answer is based on several factors.
How often you should wash your car depends on:
How often you use it – Do you drive your vehicle every single day to and from work or doing errands around town? If so, it's exposed to a variety of elements including dust, debris, rain, and so on. In this case, washing your car every two weeks makes perfect sense. On the other hand, if you park in your garage and go out to the grocery store once a week, washing once a month might be fine.
Where you drive – Those of you who live in town probably drive on smooth paved roads most of the time. While your car can certainly still get dirty even on these roads, washing your car every two weeks should be sufficient. In contrast, you may need to upgrade to a weekly car wash if you frequently go offroading, drive on dirt roads, or around messy environments, such as a construction site.
When you drive it – If you frequently drive your vehicle under the hot Arizona summer sun, you may find that even small blemishes, like bird droppings, bake on and become more difficult to remove if you wait two weeks between car washes. Weather can also play a factor if you frequent snow-covered roads in the winter as salt buildup on your vehicle poses a threat to its health. In both cases, weekly car washes may be warranted.
How you wash it – If you live in the southwest, it's more than likely that you live in an area that has moderately hard to very hard water. When your car is washed with hard water and not fully dried, water droplets leave behind hard water minerals as they evaporate. Even washing in soft water can leave water spots as sodium residue from the water is left behind. In both cases, however, you can help reduce water spots by completely drying your vehicle after washing.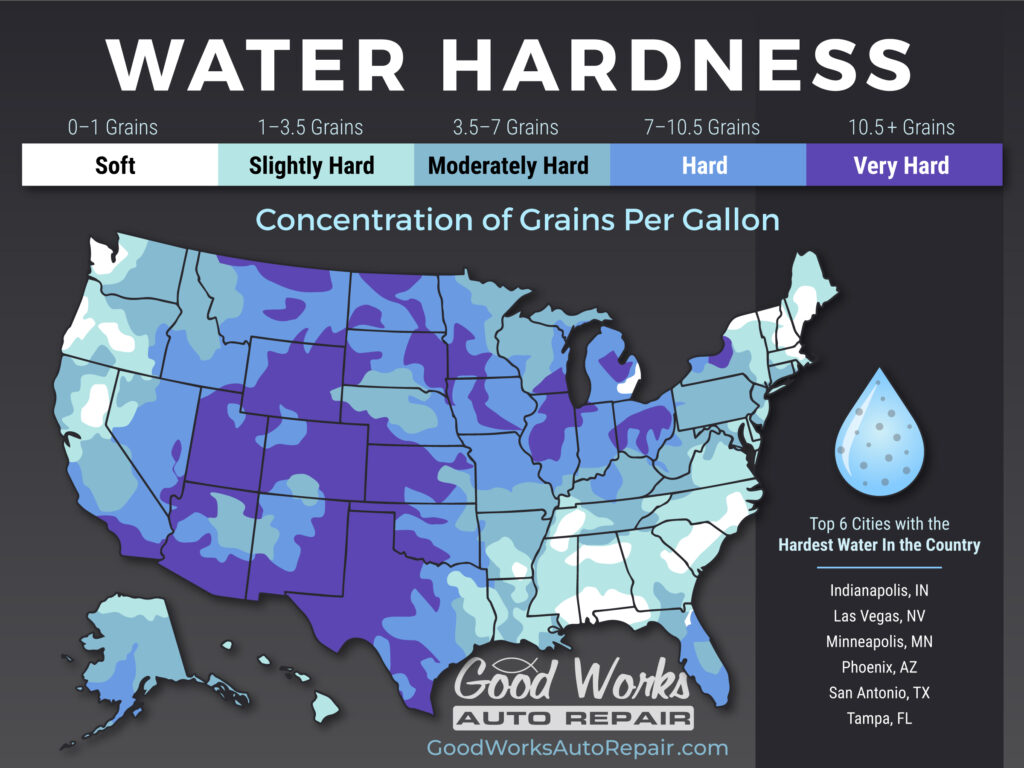 Why Should You Wash Your Car?
In addition to making it look nice, is there another reason to wash your car on a regular basis? Absolutely! Keeping your vehicle's exterior clean is one way to keep outside elements from damaging your car's paint, finish, wheels, and other components.
Now, how about keeping the interior of your vehicle clean? At Good Works Auto Repair, we offer cabin air cleaning and disinfecting service – the perfect way to safely disinfect your vehicle and protect you from things like COVID-19, germs, bacteria, and other viruses.
Regardless of how often you wash your car, we're here to help you take care of your vehicle so you protect your investment and make it last as long as possible. Simply give us a call or schedule an appointment for service online today!