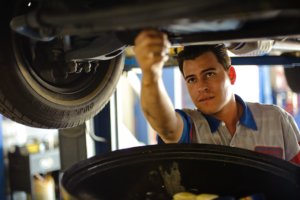 Finding a great repair shop isn't always as easy a task as it should be. Some people don't take the time to consider all aspects of the relationship required between an auto mechanic and a consumer. There's the business aspect, but there is also a personal connection that needs to be there. A great relationship, no matter who it is between, must be founded on trust, communication, honesty and fairness. That's what we strive to give our customers and that is what we want every driver to find in their auto repair shops. Whether you work with us or elsewhere, we think you deserve the best there is!
Before you consider heading to any ol' repair shop, you'll need to consider a few things to make it worth your while; the repairs or preventative maintenance services you're going for, the time and money it'll take and the knowledge and expertise required to get the job done the right way. That's hard to find if you don't do a little research beforehand. Where you take your vehicle may actually depend on what needs to be done.
Scheduled vehicle maintenance can be performed at dealerships; however, independent auto repair shops can also work on your vehicle. Just be sure to keep your service slips for any warranty requirements. If you already have a trusted repair shop you like to use, you should know that federal law gives you the right to service your vehicle wherever you like without affecting your warranty coverage. (Depending on the contract, lessees may be required to have all service performed at a dealership, of course.)
What if you don't have a reliable auto repair shop yet?
Because we understand that not everyone has an established relationship with an auto repair shop near them, we want to help you find one! Before you ever visit a potential new shop, here's what you should do first.
Find a repair shop that is an expert on your type of vehicle.
Talk to friends and family for recommendations or places they tell you to avoid.
Search the Internet for suggestions but also for shops that have certifications.
Choose a repair shop with superior certifications in the industry.
Check the Better Business Bureau.
Call the shops and talk to a mechanic ahead of time. This will help you get a feel for their communication and customer service.
Schedule a small repair or service to try them out before utilizing them for major auto repairs.
Ask about their auto repair warranties. The better the warranty on services, the better the repair shop!
Ask if they have auto repair financing options.
Make sure the shop has a convenient location and convenient hours.
We know how much your vehicle means to you. Finding a great repair shop will help give you some peace of mind when it comes to repairs and services on your vehicle. Look for a quality shop with everything mentioned above. It seems like a lot – but they're out there! If you're looking for an auto repair shop in Tempe or an auto repair shop in Mesa, we would love to meet you and take care of all your vehicle's needs. Give us a call – we're glad to chat!