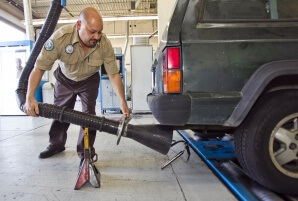 No one wants to fail a test, especially when it could mean more time and money out of your pocket, right? When it comes to your vehicle's emissions, failing a test means something is wrong, and you will need to get it fixed in order to achieve a passing standard. There are some common reasons that vehicles fail emissions tests and some other reasons that are not-so-common. Knowing a little bit about the process is the best way to make sure your vehicle gets a passing grade.
Does Arizona have emissions testing?
Yes! Arizona is one of the many states which requires vehicles to pass an emissions test regularly.  To improve air quality and reduce vehicle emissions, ADEQ (Arizona Department of Environmental Quality) administers a mandatory vehicle emissions testing and repair program known as Vehicle Emissions Inspection Program (VEIP). VEIP helps drivers understand just how important it is to maintain your vehicle's performance to lower emissions and extend the life of one of your most valuable assets.
The best part about VEIP? 
The results are cleaner air, faster testing procedures and better customer service!
Thanks to Bumper to Bumper radio, we now have some other important information to pass along. You can listen to the full radio broadcast, but we have picked out our favorite parts of the program below.
Before you head to your next emissions test
Before you head to your next emissions test, ask yourself some of these questions:
Is your check engine light on? If so, your vehicle will automatically fail the test.
Have you recently changed your own battery? This could have reset your computer's system, meaning it may not be ready for the test and will fail. The car's readiness depends on if it has gone through the drive cycle.
Did you clear the codes with a handheld device and think you'll fool the test? Not going to work. It still isn't going to be ready to take the test.
Are you looking to buy a used vehicle? The VIN number could help you to look back at old emissions tests or any issues that the vehicle may have had with passing former tests.
Check engine lights, bad gas caps or O2 sensors are common reasons that your vehicle might fail, but did you know that bad tires, bad brakes or other serious vehicle performance or maintenance issues could make it harder to pass? Preventative maintenance and keeping your vehicle in good condition with the help of our auto repair shop could make your chances of passing go up!
Our auto repair technicians are on your side and ready to get your vehicle in its best shape so that you're ready to pass any test they throw in front of you – especially when it comes to vehicle emissions!