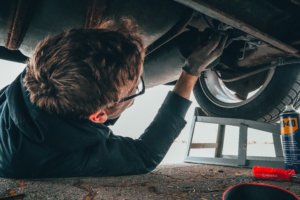 Okay, we get this all the time. Where should someone (with or even without a warranty) take their vehicle for auto repairs? Is a dealership or an independent auto repair shop better? Maybe the question shouldn't be WHICH one is better, rather WHY you should consider a trusted independent repair shop for all of your vehicle services even if you still have a manufacturer warranty.
Independent Auto Repair Shop Concerns
The biggest concern we hear from customers is that they are worried that an independent repair shop has mechanics who won't know their vehicle as well as the mechanics at the dealership. Because of the rapid changes in automotive technology, it IS crucial that the independent facility you choose is qualified to work on your car. We recommend that you look for a repair shop that employs ASE certified mechanics. ASE certification means that someone who has a certain level of experience, expertise and continued education will be working on your vehicle. There are many other designations that will give you peace of mind as well. Sure, technicians at the dealer level are specialists; they are manufacturer-trained and typically work only on your make of vehicle. But, there are plenty of qualified mechanics elsewhere, too – just like here at our shop!
We also know that people are concerned about their warranty. Many dealerships will pressure owners to get the repairs done where the vehicle was purchased so that you don't lose the warranty. This is not always the case and it varies by situation. The Federal Trade Commission (FTC), the nation's consumer protection agency, has stated that it's illegal for a dealer to deny your warranty coverage simply because you had routine car maintenance or repairs performed by someone else. Preventative maintenance often includes services like oil changes, tire rotations, belt replacement, fluid checks and flushes, new brake pads, and inspections. Maintenance schedules vary by vehicle make, model and year; the best source of information about routine scheduled maintenance is your owner's manual, of course. Without a warranty, you are free to choose a shop that you trust without any worries at all. Phew!
Creative Repairs and Costs
A local independent repair shop can be your best bet when you're paying for repairs. There tend to be more overhead costs at a dealership (larger facilities, higher salaries for technicians and office personnel, better amenities, etc.) which means higher costs for services. A dealership may also only use OEM parts, where a local shop could offer rebuilt, refurnished or generic parts to keep costs down. Plus, local shops might be able to help you out or be creative with their repairs. They may be able to solve issues in fewer steps, fewer labor hours or use them differently, or offer certain auto repair financing plans to you. At times, dealerships are locked into following specific manufacturer guidelines with very little wiggle room.
Don't fall for scare tactics or false information when you're choosing who will do your auto repairs. We know you want someone trained and honest to work on one of your biggest investments – your vehicle. Our auto technicians are trained and certified to work on a variety of vehicles, offer plenty of vehicle services to match your needs and have fair prices with our own warranty on the work we do. If you have any questions, give us a call and we can help you through the questions or concerns that you have.