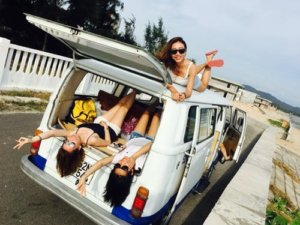 The weather's beautiful, the kids are off from school, and you're on vacation from work. You're ready to hit the road! Not so fast. YOU may be ready for a long road trip, but is your vehicle?
Summer road trip breakdowns can be inconvenient for sure. However, they can also be extremely uncomfortable due to hot weather conditions. Taking a little extra time to prepare BEFORE you head out can make a big difference in how much you enjoy your vacation.
How to prepare for a road trip
No matter what your destination is, going through this simple checklist can help take the worry out of traveling. Let's set you up for a smooth ride!
Inspect tires: Traveling in the extreme heat, as we have in Arizona, can increase tire pressure. This can leave you at risk for a blowout. Proper tire inspection includes evaluating tread and looking for weak spots that could potentially cause a flat.
Check your battery: According to AAA, the most common cause for summer breakdowns is a car battery issue. Driving in extreme heat can cause the battery's fluid to evaporate more quickly. This can potentially lead to internal damage.
Check fluid levels and top off as needed: Just as battery fluid can be affected by high temperatures, so can the other fluids in your vehicle. These include engine oil, transmission fluid, power steering fluid, and windshield washer fluid.
Inspect windshield wipers: Of course, you're hoping for sunny weather. However, if you get caught in a rainstorm, you want your wipers to be working properly. Hot weather can cause them to become cracked and not function well.
Schedule coolant system service: Just like the human body relies on sweating to prevent overheating, a vehicle relies on the cooling system to keep it running at the optimum temperature. Coolant levels, belts, and hoses can all be inspected during routine cooling system service.
Pack your GPS AND a map: These days, many people have a navigation system built into their phones, but if you don't, having a standalone GPS unit in your vehicle can make it easy to find your stops along the way, as well as notify you of potential traffic hazards ahead. Packing a good, old-fashioned map isn't a bad idea, either, especially if you're traveling in areas with poor cell phone or GPS coverage.
Road trip readiness made easy
Going on vacation can and should be fun, but sometimes the planning and preparation can be stressful. At Good Works Auto Repair, we can't pack your bags for you, but we do want to help take a load off your mind. If you have a trip planned, schedule an appointment with us for a pre-trip inspection. We'll be happy to inspect all of the items mentioned above, plus let you know if we see anything else that would give you cause for concern.
It's time to break out the suitcases, program the GPS, and hit the road!