Good Works Auto Repair Careers
Good Works Auto Repair, Tempe AZ is the number one choice for fair priced, quality and efficient vehicle maintenance. Centrally located in Tempe at the 101 and Broadway, Good Works Auto Repair helps to keep engines healthy with a focus on preventive maintenance.
Why Choose Good Works Auto Repair?
We have an Awesome 5-star Reputation and enjoy working with and supporting other repair shops in our community. We are respected by the community and our piers as one of the top shops in the Phoenix Area. We won the Small Business of the Year Award in 2015 from the City of Tempe.
While we maintain professionalism, we enjoy a fun and relaxed work environment that makes us laugh every day (well, most days anyway). If you are a FUN, FRIENDLY, CARING and INTELLIGENT individual (you have all your teeth) and you can provide "Knock Your Socks Off" service, then we need to talk to you. "Knock Your Socks Off" service is essential to our business success.
Our Culture encompasses the value of teamwork, innovation, and employee engagement. You'll experience coworkers rooting for each other and making extra efforts to help other employees succeed. We emphasize the importance of fostering a positive, supportive, magnetic environment where our people want to come to work each and every day. Our 5-day work week makes our employees jump for joy! Our guiding principles create an amazing employee experience, making each of us even better and happier. We share our experience with each other, our customers, and every person we encounter.
We take care of our people with industry leading pay and benefits which allows us – and you – to continue being amazing!
Health Insurance
Paid Time Off / Vacation
401(k)
Disability and Life Insurance
Identity Theft Protection
Retirement and Financial Planning Resources with Company Match
Training and Development

Employee & Family Discounts

Great pay!
(Compensation depends on experience)
Room for Growth
Toxic-Free Environment
Supportive Team Work
Swamp Coolers in Bays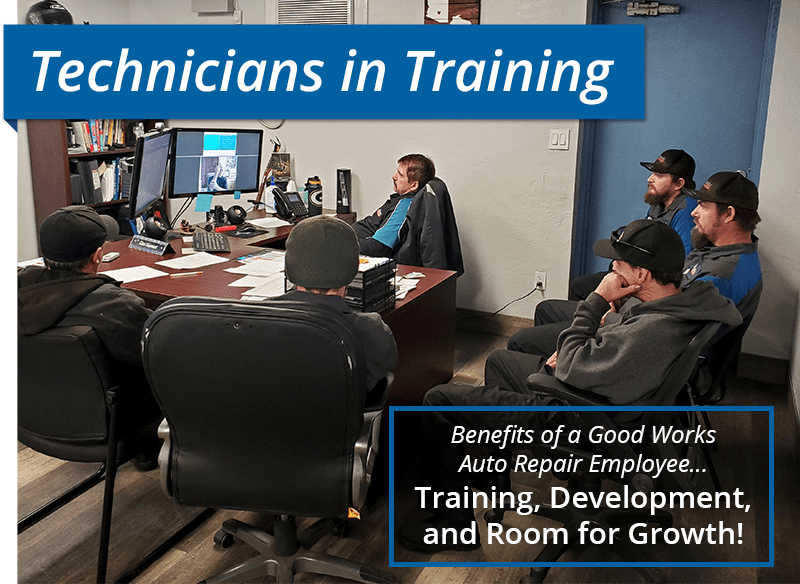 Careers at Good Works Auto Repair in Tempe, AZ
Why is Good Works Auto Repair the best in the industry? Easy, it's because of our employees. We know that it is impossible to make our customers happy if our employees aren't happy. That's why we lock up the shop on weekends, do our best to work with our employees' schedules, and provide a caring, respectful work environment. The Good Works team isn't just about working together, we're more like a family – a family with common values like honesty, integrity, and a genuine interest in the lives of those in whom we come in contact. To some, it might sound corny, but if you get a real sense of satisfaction from doing a job right – every repair, every time – you'll fit in well with our family.
We are currently seeking candidates for the following positions:
Automotive Technician
Automotive Service Advisor
Office Assistant
Please fill out the form below and submit resumes to [email protected].
Our Mission
To redefine the public's perception of our industry, by building relationships and delivering an exceptional service experience, one repair at a time!