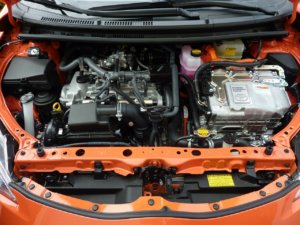 Your hybrid vehicle was an investment and probably took a lot of time and research before you made your decision to drive a green car. That says a lot about the type of driver you are; informed, educated and thorough. So when it comes to hybrid repairs, why would you want any repair technician out there to be working on the very extensive and complicated systems and components of a hybrid vehicle?
These vehicles are not like gasoline-powered vehicles. It takes experienced and highly-trained mechanics who specialize in hybrid cars to do the work –  the right way! You want to protect your investment and your vehicle's parts in general.
Choosing an Auto Repair Shop for your Hybrid
As you choose your auto repair shop, you'll want to be sure to find someone who is qualified to work on hybrid repairs as well as someone with ASE certification. This will help to ensure that their qualifications are up to par with what your hybrid vehicle needs when it comes to both service and repairs – and our automotive technicians fit this description perfectly.
We take pride in our hybrid repair services, able to give Phoenix area residents the best care for their vehicles no matter if the hybrid is a Toyota Prius or some other kind of hybrid system.
Hybrid Repair Services
We can service any type of hybrid and will ensure that you receive our best customer service and high-quality vehicle service which includes:
Using OE parts and fluids while following your vehicle's recommended service schedule
Comprehensive state of health high voltage diagnostics
High voltage cable inspection and repair
Hybrid liquid cooling system flush
Transmission fluid flush
Confirming start-up and idle-off faculties
Inspection of belts, hoses, wiring, throttle body and fluid levels
Inspection of seals, cooling system components, suspension, power train, wiring and exhaust
Hybrid oil changes
Tire rotations and inspections
Brake inspections and parking brake adjustments
Other hybrid repair services
These sound like some pretty serious repairs, don't you agree? Reliable vehicles for sure, but over time your hybrid could need some work. We also offer common hybrid repairs such as:
High voltage battery cable repair or replacement
Hybrid battery
Filter element replacement
Hybrid air conditioning system repair
Hybrid check engine light repairs and diagnostics.
Here at Good Works Auto Repair we bring you specialized hybrid auto services and we will guarantee that your vehicle stays as reliable and efficient and as "green" as the proud day you drove it off the lot. You can be happy knowing that you are doing your part to help preserve our environment, reduce emissions, save gas and hopefully, save some money on gas as well.
Ready for the best in hybrid repairs and service in Tempe or Mesa? Our hybrid automotive technicians have the most current training, the latest hybrid-specific information systems, and specialized hybrid diagnostic and service tools. We are here for you and your hybrid!