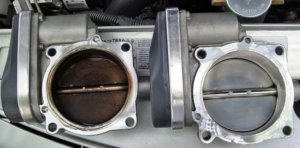 An air induction service isn't as common a preventative maintenance item as an oil change, but it is still an important service to consider. Over the course of a vehicle's lifespan, your engine is put through a LOT. This is why oil changes are so important; they help ensure all the parts are protected and able to move smoothly. But have you ever considered what happens in the cylinders after countless combustions? This is where an air induction service can help!
The Art of Combustion
All internal combustion engines combine fuel and air to be burned within the engine. With some types, fuel and air get mixed outside of the engine and with others, they're mixed right in the cylinder. So how do they meet? Well that's where the fuel and air induction systems come into play – they bring the components of combustion together.
Combustion happens every time you start and run your engine. Now, stop and think about how many hours and hours these systems have worked since you purchased your vehicle. As you can imagine, just like anything else that deals with gas and fire, they will get dirty over time.
Symptoms of a Dirty Engine
Over time, deposits will accumulate on fuel injectors, intake valves, injectors, ports and even the combustion chamber itself. One of the first symptoms many people notice when it's time for an air induction service is poor gas mileage.
This is soon followed up with hard starts, loss of power, rough idling, knocking, pinging, misfires and hesitation. You might think some of these are just a nuisance, they can quickly turn into major problems down the road.
How can an Air Induction Service Help?
Air induction services are important because they help keep your fuel system clean. This in turn equates to improved engine performance and better fuel economy.
The air induction service we perform here at our Tempe auto repair shop is a comprehensive cleaning of your engine. While your engine is running, we flood it with gasses through the intake manifold. These gases contain special cleaning agents that remove and dissolve any existing deposits. They then emit them out of your vehicle's tailpipe.
When left untreated, these deposits act like a sponge, soaking up fuel and restricting air flow. An air induction service will take care of any buildup – letting your engine breathe freely again and ready to once more efficiently do its job. You'll enjoy a boost in fuel efficiency, a reduction in harmful pollutants emitted from your vehicle and a longer engine life because it can perform under less stress.